When picking a TMT bar manufacturer, you want to find someone who can produce your company's specific products. With so many styles out there, it's easy for customers to become confused about what sets one company apart from another. 
No matter the style or material you need for your product, check out the eight features of the best TMT bar manufacturer Sugna TMT:
Why do Civil Contractors Choose Sugna TMT?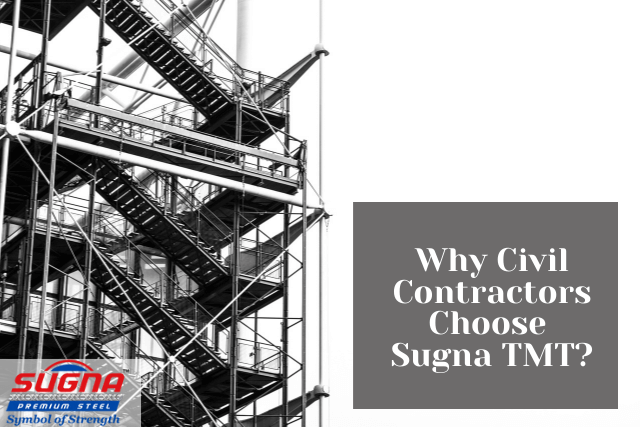 Unique manufacturing techniques 
These techniques include vacuum forming, pressing, etc.  Having access to imported parts (i.e. flat steel) and the know-how to use the latest or unique manufacturing techniques to create the exact shape you need. Sugna TMT can produce any TMT bar style you require.
Quality control:
Whether it's through an internal quality control process or a separate third-party organization, it should always be clear how your product is inspected and approved before it is supply to the client. Sugna TMT looks at the quality control process very strictly. 
Understands material requirements: 
TMT bars are a product that requires specific materials for each step in the manufacturing process. Sugna TMT makes sure that they can understand and deliver exactly what you asked for.
Attention to detail: 
Things such as texture, consistency, and uniformity are all factors that should be considered when picking a good TMT bar. Sugna TMT is cautious about all these factors and ensures all must be perfect.
Offer various shipping methods:
If you run your own transportation company, you might not need to worry about shipping.  However, if you're not sure how fast the products will ship or if you need help training the employees, then you must know that Sugna TMT has a speedy and cost-effective shipping method. . 
Can produce in large quantities: 
Your Company might have a limited capacity for TMT bars at one point in time, but it could grow quickly once production becomes more efficient. That can make it challenging to find a suitable TMT bar manufacturer who can meet your specific needs and keep up with demand. 
However, Sugna TMT is a reputable company, and you will never find a shortage in stock. They can produce many different TMT bar types, styles, sizes, and materials. You can anytime purchase what you require. 
Competent and professional personnel:
When dealing with a new company, it's essential to find someone reputable in the industry who knows how to create your product exactly how you want it. Sugna TMT deals professionally and serves the best product.
Conclusion 
For many years, Sugna TMT has provided TMT bar manufacturers and engineers with the highest quality machined components available. They take pride in our products and strive to be a premier provider of TMT bars, but more importantly, they have a passion for outstanding customer service.
As one of the largest providers of tempered steel rod and wire products, Sugna TMT is the best choice for any company or individual looking for TMT bars. Civil engineers are currently opting only for Sugna TMT for their needs.