TMT steel bar has revolutionized the modern construction industry. Without TMT, the costs of construction would have been more. Apart from TMT steel meaning, this article will talk about the properties of TMT.
What is TMT?
TMT stands for "Thermal Mechanical Treatment" and refers to the steel's performance after being heat-treated by various methods.TMT meaning in steel refers to the Thermal Mechanical Treatment that the steel undergoes.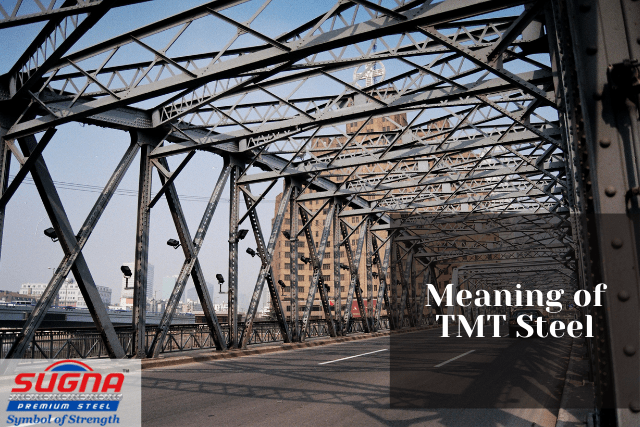 Physical properties of TMT Steel
Here are some of the physical features properties of TMT:
TMT has a rigid outer core and soft inner core.
It is chloride stress-resistant.
High thermal conductivity allows heat to disperse across its surface more efficiently.
Resists the formation of intermetallic compounds.
High resistance makes it suitable for fatigue cracking.
Since it has a very high thermal conductivity, therefore, no coating is needed.
TMT steel has high tensile strength.
TMT Steel is one of the most robust steels in the world.
It could withstand a strain of up to 525,000 PSI.
It can be formed into various shapes under high heat and pressure.
TMT Steel has a density of 7.75 lb/in.
Slabs are made with 8mm-10mm size TMT bars.
Beam and columns need around 12mm-25mm.
Dams and bridges need approximately 32-36mm.
Chemical properties
Below are the chemical constitutions of TMT:
TMT Steel is a steel alloy with a controlled microstructure.
MT Steel is made up primarily of Chromium-Molybdenum compounds with less than 1% Carbon content.
The corrosion resistance comes from a very fine microstructure and the low carbon content.
Conclusion
TMT steel is versatile steel that has been used in a wide range of applications due to its high strength-to-weight ratio, good corrosion resistance, low cost, and ease of production.
Its ability to become very hard after tempering with ease makes it suitable for use in applications where toughness is required. If you are looking for the best quality of TMT steel then hire experts like Sugna TMT.