Mankind has always been on the run toward success and growth. In order to achieve it, we have put in all our hard work and taken many risks to be where we are today. When it comes to shaping the future in the construction industry, one must make sure to test it, again and again, to ensure the end results of the construction are not affected by a single mistake or inefficiency of the material. This not only builds our confidence in the object but also helps us to apply the same in every other suitable field.
Steel bars are one of the major players when it comes to buildings and the construction of multi-story structures and without a proper testing procedure, one cannot trust the steel bar. Hence, we at Sugna TMT have been making sure to test each and every steel bar before it leaves our premises. 
Many types of tests can prove the strength of the steel bar but one of the most important and most commonly used is Proof stress and Necking. These terms may be new to our readers and we at Sugna TMT are here to make it easy. 
In this article, we shall see what is Proof Stress and Necking, why is it done, and what does it prove? Then, what are we waiting for? Let's begin to explore. To know more about Sugna TMT, please visit www.sugnatmt.com 
What is Proof Stressing and Necking?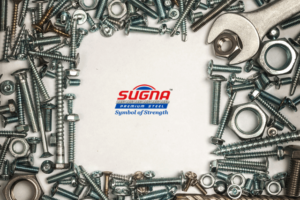 Proof stress
As the name itself specifies, proof stress mainly focuses on proving the stress capacity of a material by carrying out a test on it. This type of test is conducted on the metals such as magnesium, aluminum, steel and copper, and other such materials where stress points cannot be easily identified. However, calculating steel stress has become much easier from this method.
This technique decides the value of the stress of a material by applying a large amount of pressure until the curve point undergoes plastic deformation which cannot be brought back to the same state. This curve point is known as a proof point and allows the user to determine what is the maximum amount of stress that the steel can handle. It also helps to determine its applications accordingly. 
Necking
Necking is a similar type of testing where the steel bar undergoes a mode of tensile deformation in a small amount of area and forms a 'V' shape size or a neck shape size. Hence, this type of testing is called Necking. Necking is observed from ultimate stress point to point of fracture or break.
To avoid all such difficulties, we at Sugna TMT has always been a step ahead and have involved these type of tests in day-to-day productions. This has not only improved our quality but also our confidence in the material. 
This type of test helps manufacturers to understand the nature and instability of the material. Through these tests, the producers can make sure to overcome the issues and help the material long last and also decide where it can be applied in society. This mainly helps us to reduce the failures that occur due to a lack of knowledge about the materials.
Conclusion
To conclude, Proof stress and Necking are some of the important tests that one cannot ignore and has a lot of benefits if followed properly. Sugna TMT has always encouraged such practices which ensure the safety of our clients by carrying out huge amounts of tests on our products and making them stronger every day. 
Do you want to be benefited from such products? Then, what are you waiting for? Call us today and know more.