The steel manufacturing industry is one of the most essential industries to help the nation grow as a superpower country. There are hundreds of steel companies in India who are serving the nation for many years by delivering some of the finest products to their clients. Many industries in Hyderabad have been chosen as the best steel dealers and yet we always wondered what are the best steel dealers near me.
In these clusters of companies, Sugna TMT has been one of the top industries to be identified by the users and has been our client for many decades. By using advanced technology, we have been manufacturing steel at a greater speed than any other. Today, the demand is too high as the usage of steel is much wider than before. 
Hence, to fulfill this demand, we at sugna TMT are striving hard every day to bring smiles to our client's faces. Similarly, there are many companies in Hyderabad that are working day and night to meet this demand and this article is to showcase such companies. 
Are you ready to know some of the best TMT steel dealers in Hyderabad? Come on. Let's get going!!
TMT steel dealers in Hyderabad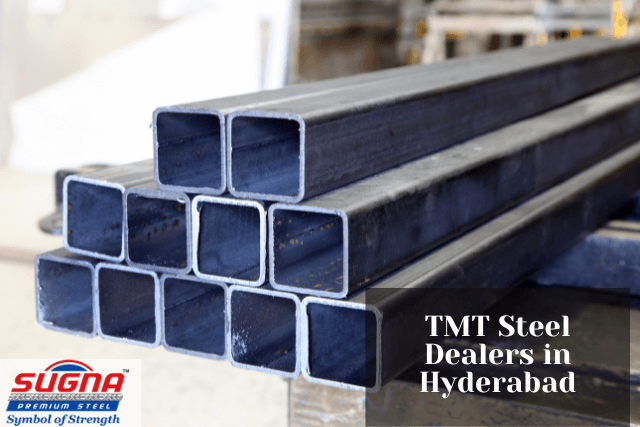 Here is the list of top TMT steel dealers in Hyderabad with their introduction and specialty. 
#1 Sugna TMT
India is a vast country and has industries with deep knowledge of steel, such as Sugna TMT is very hard to find. Sugna TMT came to light in the year 2008 under the guidance and leadership of Mr. Bharat Kumar Agarwal who is the director of Sugna TMT. 
Sugna TMT has always believed in delivering the utmost good quality steel no matter what. Seeing today's success, we hope that we have successfully achieved it. We are capable of selling any type of metal as per the requirement of the client.  
We are located at Pargi Village, Viarabad district, Telangana. For more info about us please visit www.sugnatmt.com.
#2 Bhaheti Steel Trade
Bhaheti Steel Trade industry was started in the year 1969 by the late Shri Motilal Baheti. Since then they have never taken a step back in their growth. After Sugna TMT, Bhaheti steel traders are the top TMT steel dealers in Hyderabad with three outlets. Quality and weighting are the main uniqueness that they are famous for in the whole of Hyderabad.
#3 Hirawat Steel Pvt. Ltd.
The Hirawat steel dealers have made their name across the city by being one of the oldest steel-selling brands in Hyderabad. Even though the industry is running for many years, it uses some of the most advanced technology to sell its steel when compared to other steel industries. Hirawat Steel Pvt. Ltd. has always been a customer-oriented industry with some of the most skilled workers.
#4 Radha TMT
Radha TMT is a perfect example of how a successful steel industry must grow under the guidance of experts. It was started in the year 1960 and has been one of the most admired industries by all the other groups. Shri Sunil Sharaf and Shri Suman Sharaf are the present heads of Radha TMT which was initiated by the late Shri Radheshyam Ji Sharaf.
#5 VVN Steels Pvt. Ltd
VVN Steels Pvt. Ltd is known for its experience in this field of selling steel and has made its name among the top TMT steel dealers of Hyderabad through its hard work. They always believe in being one point solution and have achieved it in recent years. Since 1989, VVN steels have been the best and leading steel industry in the whole of Hyderabad.
#6 Disha Steels
Disha steel being one of the most trusted distributors has different brands such as Kamadhenu Steel, Jai Raj Steel, Kay2 steel TMT bars, and many more. Disha is not only known as the best steel dealer but also for other construction products. They are the most preferred companies by their clients when compared to others.
#7 Shree TMT
Shree TMT has been building the nation since 1966 and is the best steal dealer in and around Hyderabad. The industry is run by the Goenka family and is one of the trusted top TMT steel dealers in Hyderabad. They are mainly used in the building of huge infrastructures such as dams, flyovers, and highways. Shree TMT has been one of the sellers of steel TMT for many years.
#8 TATA Tiscon
One of the familiar names in selling TMT bars in Hyderabad is Tata Tiscon which has also been in the field of steel manufacturing since 2000. Tata Tiscon believes in being the one-point solution and hence, it sells every type of steel TMT bars to its clients. They are also one of the preferred steel dealers after Sugna TMT.
#9 Sri Vyshnavi Steel Traders
When it comes to choosing the right steel dealers in Hyderabad, Sri Vyshnavai steel trader is one to remember. They deal in different kinds of high-quality TMT steel bars of different grades and qualities. So, if you are looking to purchase TMT steel bars for your dream house, Sri Vyshanvi Steel trader is one of the probable options one can consider.
#10 Swagat Steel Traders
Last but not least, Swagat Steel Traders features on our list as one of the best steel traders in Hyderabad. They have been in the business for a long and have a spotless track record of meeting client requirements with high-quality premium TMT steel bars. They are also famous for providing customized solutions as per the client's requirements.
Final Words
Steel dealers in Hyderabad are one of the most known companies by everyone as it is the most essential part while building a structure. Buying from some of the trusted companies makes you trust more in steel TMT bars and their strength. Sugna TMT has been a company that has always put its client's interests at the top.
If you are looking for the best steel dealers near, your search stops here. We at Sugna TMT are waiting to serve you with our most unique and proactive team. Give us an opportunity and we shall ensure you the best steel TMT bars ever. You can contact us today at 180030101604 or even mail us at [email protected]