TMT Steel Bars, no docs is one of the most important components for any kind of building construction. In fact, TMT steel hands gained even more significance in the wake of constructing long-lasting, eco-friendly, and earthquake-proof buildings. 
At the same time, India's steel manufacturing industry is a fairly vibrant one, with a large number of players in the market offering comparable as well as distinctive TMT steel bars. No doubt, choosing the right steel manufacturer to source TMT steel bars for your building construction can be consuming and a challenging task. 
But you are here, so you need not worry anymore! In this article, we list some of the top steel manufacturers in India, manufacturing and supplying TMT steel bars in different parts of the country. Here's our list:
Best TMT Steel Manufacturers in India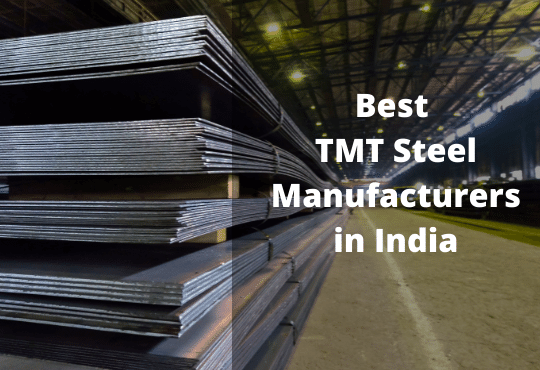 1. JSW Neo Steel
JSW Neo Steel is one of the oldest leading manufacturers of TMT steel bars in India. Available at multiple locations all across the country, JSW Neo Steel currently has an installed capacity of over 18 MTPA of reinforced steel.  Even with such humungous manufacturing operations, the company adheres to the highest standards of quality, including the IS 1786:2008 certification.
JSW Neo Steel offers a wide range of products for different kinds of construction requirements. Some of these products have been listed below:
JSW Neo Steel 500 D
JSW Neo Steel 550 
JSW Neo Steel 550 D
JSW Neo Steel 600
JSW Neo Steel CRS
2. TATA Tiscon
TATA is a brand that commands a lot of credibility in the market when it comes to steel manufacturing. Moreover, TATA is known to bring about the use of the latest cutting-edge technology in steel manufacturing and hence is a class apart in terms of quality. 
The company's steel manufacturing business by the name of TAT Tiscon was launched in 2000. In fact, TATA Tiscon was the first steel manufacturer in India to launch TMT rebars. 
TATA Tiscon, like any other leading steel manufacturer in India, offers a variety of products:
TATA Tiscon 500
TATA Tiscon Superlinks
TATA Tiscon Footing
TATA Tiscon SD
3. Amba Shakti TMT
Based out of Khairi in Himachal Pradesh, Amba Shakti TMT can be your preferred choice if you are looking for a high-quality and reliable steel manufacturer in North India. Over the years, the company has earned a reputation for being a top name in the steel manufacturing industry. 
At the same time, Amba Shakti TMT is known to invest in eco-friendly technologies and adopt innovative manufacturing processes with the least carbon emission. Nevertheless, there is no compromise on the quality of the TMT steel bars, including grades Fe 500 and Fe 550. 
So, if your construction site is situated in the Northern part of India, you can very well go with Amba Shakti TMT steel bars for quick and efficient procurement. 
4. Sugna TMT
Sugna TMT is a large-scale manufacturer of TMT steel bars in Hyderabad and is easily the best in the region – both in terms of quality and reliability. The company has been in the business of steel manufacturing since 1980 and has developed an in-depth understanding of the industry. Its wide range of products includes not just TMT bars, but Billets, Silco Manganese, Sponge Iron, and more as well. 
As far as TMT steel bars are concerned, Sugna TMT manufacturers a wide variety of TMT bars for its clients including Fe-500 & Fe-600. The TMT bars are available in different thicknesses, ranging from 6 mm to 32 mm, and you can choose as per your requirement. In a nutshell, Sugna TMT is your one-stop solution for all kinds of TMT steel in Hyderabad. 
5. SAIL
SAIL or Steel Authority of India Ltd. is a public sector undertaking of the Government of India and is amongst the largest manufacturer of reinforced steel bars in the country. The company is a highly trusted brand in the steel manufacturing industry and has withstood the test of time. In fact, SAIL has fulfilled the steel requirements for some of the largest public infrastructure projects in the country. 
Therefore, if your steel requirements are for a large project and you want to partner with a reliable brand, then SAIL can be a good option to consider! 
6. Shyam Steel 
Shyam Steel is yet another leading manufacturer of TMT steel bars in India. The company dates back to 1953 and hence has a proven legacy. Moreover, Shyam Steel is a TUV certified steel manufacturer, which means that there is no doubt about the quality and strength of the steel bars manufactured by it.  Their TMT steel bars boast features such as superior stability, consistent quality, high strength-to-weight ratios, uniform grades, dimensions, and tolerances.
In fact, one of the greatest benefits of choosing Shyam Steel TMT bars is the cost advantage that it offers. The company provides highly competitive pricing, with no compromise on the quality of features. 
7. Kamdhenu Ltd.
Kamdhenu Ltd. is a steel manufacturing company based out of Gurgaon in the Delhi-NCR region. The company offers a wide variety of TMT steel bars of good quality. Established in 1995 as a small manufacturing unit, Kamdhenu Ltd has grown rapidly riding on a franchise model, with even a global presence. The brands' credibility can be inferred from the fact that today, Kamdhenu Steel is easily identifiable and a name to reckon with in the construction circles. 
The manufacturer's flagship products are the Fe- 415, Fe – 500, and Fe – 550 variants of TMT steel bars, which come in different diameters ranging from 6 mm to 25 mm. The company also offers customized diameter steel bars on bulk orders, as per the client's requirements. 
Therefore, if you are looking for TMT steel manufacturers in and around the Delhi NCR region, then Kamdhenu Ltd. can be a good option to consider. 
Takeaway
There are several good country-wise as well as regional steel manufacturers that offer high-quality TMT steel bars for building construction. However, it is always advisable to source your steel requirements from a manufacturer located in the vicinity of your construction project. For example, if you are constructing a building in or around Hyderabad, then going with Sugna TMT will be the best choice!