Metal and metal products are one of the most important sectors of India's industrial sector. However, with a rapidly expanding economy, the Indian demand for metal products has grown substantially in recent years. 
Strong demand for TMT is growing in India
As steel production capacities have expanded to globally competitive levels, India is now at a point where it needs technically-advanced steel materials. This search for technologically advanced steel grades will narrow down to the alloy steels such as TMT bars.
TMT bars have good mechanical properties and minimized process-related costs. It was found that TMT is appropriate for manufacturing top-quality cold-rolled plates that can be used in all kinds of industries/sectors ranging from automobiles to medical devices. These plates can be exported globally, especially to the European markets.
Future of TMT Bars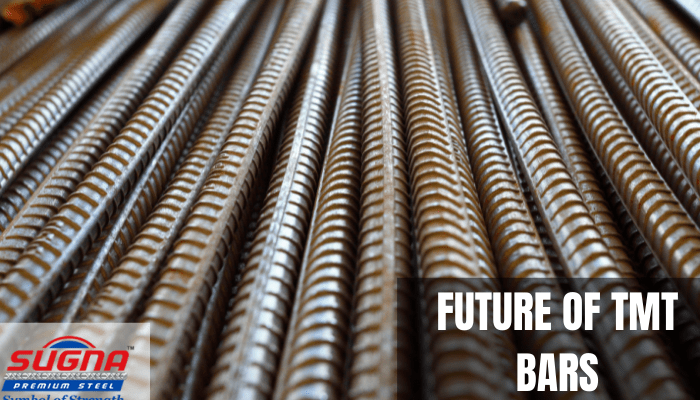 With respect to TMT hot or cold rolled plate, as of now, there is a strong demand for this grade in the global market. 
TMT hot or cold rolled plate is hard wearing and has low-alloy content which makes it an ideal product for applications such as roofing sheets, girders, and large format products like steel pipes and large diameter steel structures, etc.
TMT steel is a high-strength, low alloy, tempers rolled steel alloy. TMT is a multi-phase material formed by two phases of Fe-C and Fe-Mn-C with controlled carbon content (0.10 – 0.30%). TMT steels are hardenable by normalizing and quenching. 
Their compositions allow them to be solution treated to develop high strength characteristics. TMT steels are commonly used as general-purpose structural engineering steels for bridges, buildings, cranes, pressure vessels, and other industrial applications requiring high strength and toughness at a low cost.
They show good resistance against corrosion in oxidizing media in contrast to the general properties of C-Mn steel grades. The composition ranges from Fe-C-Mn (0.4 – 0.8) to Fe-Mn-C (0.23% – 0.5%). 
TMT is also an intermediate quality material with maximum carbon content in the range of 1% however this is a high alloy grade with very good resistance to heat and corrosion in acid media.
Economical TMT Plates
TMT plates are more expensive than regular flat plates but much more economical than equivalent carbon-based grades. The quality standards are very high. The material has a specified yield strength of 690 MPa and tensile strength of 970 MPa along with elongation/ toughness. The material is also corrosion-resistant, making it perfect for buildings, bridges, and other heavy-duty constructions.
The low alloy process steel TMT shows new trends in its yields and process characteristics. For comparison, we find certain differences between the TMT steels. These differences are dependent on the processing route because of the different metallurgical structures of these steels.
Conclusion
TMT steel was developed as an alloy for the production of preformed parts for the automotive industry, and this was done partly because it was cheaper than other options available at that time. It is important that you know how to select the right hot rolled bar so you will not end up investing both time and money without getting any benefit.