Metal and metal products are one of the most important sectors of India's industrial sector. However, with a rapidly expanding economy, the Indian demand for metal products has grown substantially in recent years. 
We have come a long way from importing steel for very important tasks to manufacturing and exporting ready-made steel products to different countries. This improvement has not only brought changes to our lives but also has improved our country's economy immensely. Today, we produce around 143.91 million tons per year providing twenty lakh jobs every year.
One of the products that are appreciated, praised, and worth the money is TMT bars which are used mainly for construction. TMT bars are one of the most recommended bars as they have proved to be worthy when compared to other metal bars. There are several advancements that can be seen in this field to enhance the quality of the product. 
We at Sugna TMT have always encouraged research and innovations among these metals. We in our industry carry on out many types of research in search of a new metal that can make TMT bars superior to others. Hence, in this article, we shall see how the future of TMT bars and their innovations are carried out. Then, why wait? Let's get started!!
Strong demand for TMT is growing in India
As steel production capacities have expanded to globally competitive levels, India is now at a point where it needs technically-advanced steel materials. This search for technologically advanced steel grades will narrow down to the alloy steels such as TMT bars.
TMT bars have good mechanical properties and minimized process-related costs. It was found that TMT is appropriate for manufacturing top-quality cold-rolled plates that can be used in all kinds of industries/sectors ranging from automobiles to medical devices. These plates can be exported globally, especially to the European markets.
Future of TMT Bars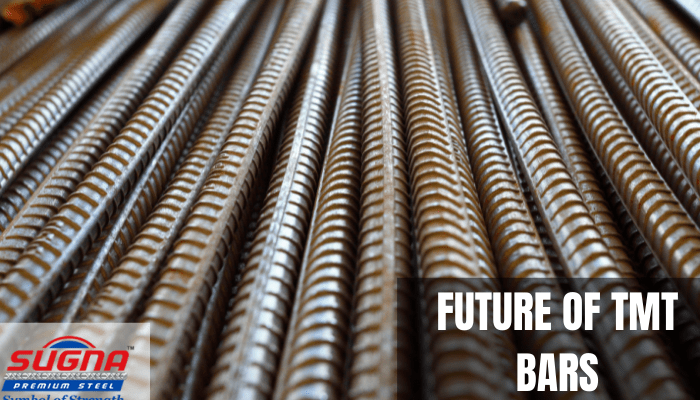 With respect to TMT hot or cold rolled plate, as of now, there is a strong demand for this grade in the global market. 
TMT hot or cold rolled plate is hard wearing and has low-alloy content which makes it an ideal product for applications such as roofing sheets, girders, and large format products like steel pipes and large diameter steel structures, etc.
TMT steel is a high-strength, low alloy, tempers rolled steel alloy. TMT is a multi-phase material formed by two phases of Fe-C and Fe-Mn-C with controlled carbon content (0.10 – 0.30%). TMT steels are hardenable by normalizing and quenching. 
Their compositions allow them to be solution treated to develop high strength characteristics. TMT steels are commonly used as general-purpose structural engineering steels for bridges, buildings, cranes, pressure vessels, and other industrial applications requiring high strength and toughness at a low cost.
They show good resistance against corrosion in oxidizing media in contrast to the general properties of C-Mn steel grades. The composition ranges from Fe-C-Mn (0.4 – 0.8) to Fe-Mn-C (0.23% – 0.5%). 
TMT is also an intermediate quality material with maximum carbon content in the range of 1% however this is a high alloy grade with very good resistance to heat and corrosion in acid media.
Economical TMT Plates
TMT plates are more expensive than regular flat plates but much more economical than equivalent carbon-based grades. The quality standards are very high. The material has a specified yield strength of 690 MPa and tensile strength of 970 MPa along with elongation/ toughness. The material is also corrosion-resistant, making it perfect for buildings, bridges, and other heavy-duty constructions.
The low alloy process steel TMT shows new trends in its yields and process characteristics. For comparison, we find certain differences between the TMT steels. These differences are dependent on the processing route because of the different metallurgical structures of these steels.
The Future of TMT bars: Innovations and Advancements on the Horizon
We have seen immense demand for TMT bars in recent years due to economic and infrastructure growth. As it is an easy choice for every contractor due to its strength, ductility, and flexibility. It has mainly attracted buyers because of its advanced technology and undisturbed innovations.
Growth of the industry has been increasing rapidly as every builder wants to build the structures to last long and TMT bars can make it happen. Bridges, high-story buildings, tunnels, highways, and other infrastructural projects are some of the new projects that have been coming up this mainly attract the demand for TMT bars.
Our growing economy has also chosen a newer way of building infrastructure which is green construction. This has helped industries to manufacture high quantities of HSLA (High Strength, Low-Alloy) which are famous for better corrosion resistance properties and fatigue resistance. 
In recent innovations, many industries have come up with sensors to monitor the health of the TMT bar. This helps the builder to check whether there is any crack or corrosion which can be resorted at the earlier stages. The sensors also act as real-time defect detectors and help to get the real temperature of the TMT bars and other environmental issues. 
Micro-alloying is one of the most fascinating technologies that have been proven to be self-worthy in the field of TMT bars. Micro-alloying is nothing but the use of vanadium, niobium, and titanium which can enhance the strength of the TMT bars.
We at Sugna TMT have always believed in innovation and advancements of the Horizon. Being one of the enjoyers of the technology, Sugna TMT has always encouraged such actions and has performed its share of duties.
Conclusion
TMT steel was developed as an alloy for the production of preformed parts for the automotive industry, and this was done partly because it was cheaper than other options available at that time. It is important that you know how to select the right hot rolled bar so you will not end up investing both time and money without getting any benefit.
The future of the TMT bar is bright and has been the best when compared to other metals. However, these advancements and innovations shall create history and make sure to create a metal that the lifestyle of the people. Sugna TMT has always manufactured bars with the use of advanced technology.
If you want to be one of the lucky ones to use Sugna TMT bars, then call us today!!