The history of TMT bars takes us back to the 1800s when it all started in America and Great Britain. The production of steel bars was a stepping stone for economic and cultural growth, taking the world to the next level of advancement in technology. Steel bars became the backbone of many industrial revolutions.
According to historians, India had started manufacturing its steel in 400 BCE, where it was used in arrows. However, it was recognized with Bengal Iron Works (BIW) which was set up in West Bengal in 1874. 
Though steel bar manufacturing came to India in 1874, we were globally known only when TATA Iron and Steel companies were established by the great Jamshedji Tata in 1907. Jamshedji Tata is also known as the father of the steel industry.
In the olden days, the manufacturing of steel was at its initial stages and the structures built were using mild steel bars which were not adequate and needed advancement. As the practice continued to install steel bars with concrete for better strength, TMT bars came into existence. These TMT bars flourished in steel industries with huge opportunities and took them to new heights.
We at Sugna TMT have always believed in better growth of the economy and hence, we have been manufacturing one of the finest TMT steel bars when compared to others. These TMT bars were manufactured to serve very few needs and with their advancement and newer technologies, it is widely used in all fields.
Growth and History of TMT bars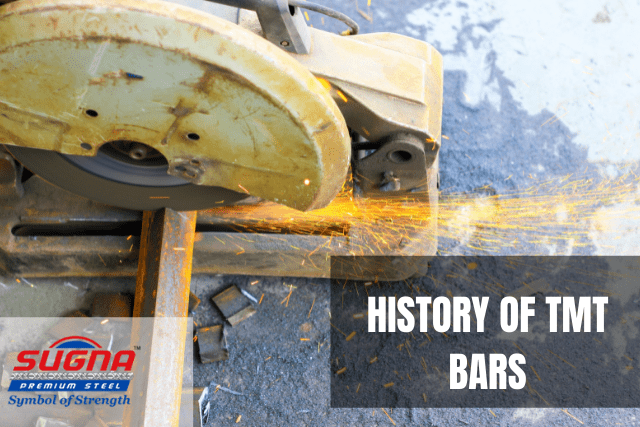 TMT bars manufacturing has always been in an upward growth and with every manufacturing and testing, a new and better form of TMT bars was introduced. Let us see some of them.
First, the TMT bar was introduced in 1979 with a Grade called Fe415 which was used widely for construction purposes. The Fe 415 is very flexible and can be bent to any shape without any special tools. There is a subtypes –  Fe 415S and Fe 415D, one can choose any of them based on their requirement.
Then, came the Fe 500D, which was and also has been present in the market for a very long time and was very well known for its strength when compared to the Fe 415. In Fe 500 one can opt for Fe 500D or Fe 500S for better stability or ductility. It was majorly used for multi-story buildings
Fe 550 grade was one of the best TMT bars which were used as a common steel bar for all types of works as it has great tensile strength compared to all other TMT steel bars. It is mainly used for large industrial construction which requires a great amount of strength.
One of the strongest and most well-known TMT bars and is recommended by every constructor is Fe 600 grade TMT bars. This is a superior TMT bar in comparison and is used to build Bridges, Tunnels, Towers, and so on. 
Conclusion
The history of TMT bars has always inspired us to manufacture some of the best TMT bars mankind has ever seen. Using these TMT bars we have built many multi-story buildings which are standing strong and straight to the date. We at Sugna TMT have always put forth our clients' requirements for better satisfaction. Call us today to get your TMT bar.