India has been a developing country and provides huge opportunities to everyone as there are numerous options for an individual to choose from and make it into a business opportunity in India. Not only to an individual but also to many industries India has welcomed and shown them the path to success. 
Several industries have been successfully running their business for more than decades. Among them, the importance of iron and steel industry in India is much higher than other industries, which have been playing a very important role in building our nation. 
India has been known for its steel and iron production and it has been ranked in 5th position in global manufacturing in terms of steel production and export. It is a fact that steel is one of the most important facts in the infrastructure growth of a country and India is one of the best examples.
Sugna TMT is a steel manufacturing industry from Hyderabad Telangana that has been part of the nation's infrastructure rural development for many years now. We have some highly experienced workers who have seen India's capacity and are working day and night to cope with it.  To know more about us, please visit www.sugnatmt.com. 
However, there are common questions that arise in every mind; what Importance of iron and steel industries in India? Why does the country plan to establish more and more industries or plants to manufacture steel why is it so important? 
Well, you are in the right place for the answers. In this article, you can know what is the importance of the steel and iron industry. Come on then!! Let's read it out!!
Importance of iron and steel industry in India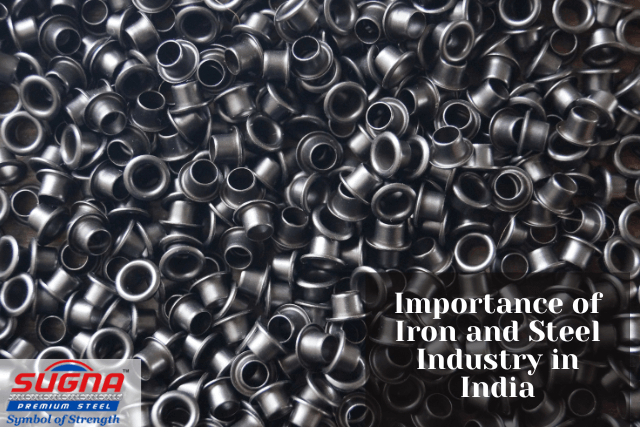 The Indian steel sector has been growing rapidly by making new headlines in the global market. There are hundreds of iron and steel industries in India as the labor and raw materials are very cheap as compared to other countries such as China and USA. The availability of raw materials such as iron ore and other required metals are in huge capacity hence many industries place their mining area in India.
Iron and steel industries in India are the major industries that are contributing heavily to the growth of the economy. The nation has been taking some private steps and decided to develop these industries to a new level. To be a developed nation, these industries must be a part of the country's growth and should be able to manufacture in huge capacity.
Some of the importance of the iron and steel industry in India are:
#1 Production of various equipment 
The iron and steel industry helps to produce many tools that are required to build a machine or equipment by manufacturing its parts. These industries export steel or engineering tools that are used to put together equipment and can are deployed in various fields.
#2 Infrastructure Development 
There is no secret that iron and steel are used enormously while building structures which also results in strong infrastructure and assures the development of the nation. Steel is quite an important component that is required to build a structure strong and reliable.
#3 Feeder for industries 
Iron and steel industries are also called feeders for industries as they produce raw materials such as steel and iron for other industries for their further processing of goods. Without these industries, the dependent industry may not be able to export their goods and help the nation to grow.
#4 Direct contribution to country's growth
As steel and iron are used widely around the world it is a basic requirement for all industries and even individuals all over the globe. Hence, increase exporting of steel and iron is one of the direct impacts on economic growth which can lead to becoming a strong nation. 
#5 Development of Logistics
Steel and iron industries require raw materials such as iron ore and other metals that are available in the earth's core. These raw materials are mined and taken out of the earth's core and then transported to the nearest factory or the factory that has requested the materials. To transport, many logistic companies are hired and this helps them to grow.
Conclusion
It is not a denying fact that the iron and steel industries are part of India's growth. The importance of iron and steel industry in India has high values as India is a developing country. Hence, Sugna TMT is one of the best companies when compared to others for its contribution to the nation's growth.
We are confident that we can satisfy you by delivering the best service possible. To know more, contact us 180030101604 or mail us at [email protected].