There is no second thought that the Iron and Steel Industries have revolutionized the whole world with their strong and reliable metals. These industries are present everywhere and have been carrying out their duties toward the growth of the country without fail.
Having said that, one may not often come across such industries and always might wonder where these Iron and Steel industries are located in India. Playing a vital role in the development of the economy one must know where they are situated.
To know that you have come to the right place, Sugna TMT is a steel industry that has always been a part of this revelation. For more info please, visit www.sugnatmt.com.  We have listed some of the places where these industries can be found. Then why wait? Let's get moving…
These industries are situated in such locations where they can be benefited in terms of transportation, marketing, cheap labor, and availability of raw materials. All these factors are essential to establishing and running an industry successfully over a long period.
In India, we can find iron and steel industries mainly in four states that are West Bengal, Odisha, Chattisgarh, and Jharkhand. Some of the steel industries are also present in the southern part of India such as in Karnataka, Andra Pradesh, and Tamilnadu. 
States such as Odisha, Karnataka, West Bengal, Jharkhand, Chattisgarh, and many other states are rich in deposits of coal and iron ore. Hence any industry plans to set up their plant near these mining areas for easy transportation of raw material goods.
Some of the major steel plants and their locations are listed here below. Let's go through them…
Major Steel and Iron Plants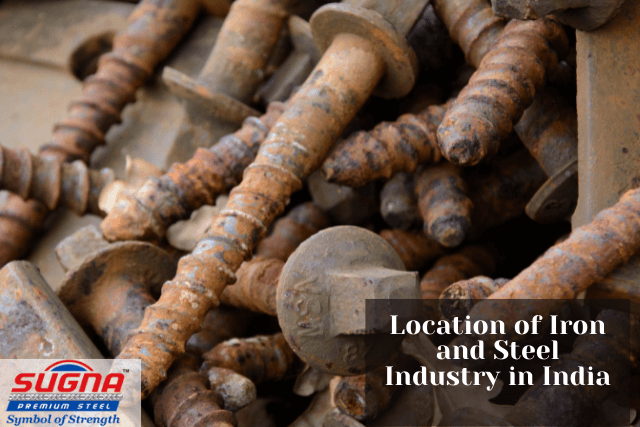 #1 Sugna TMT
Sugna TMT is situated in Hyderabad, Telangana, and has been producing TMT bars and other steel and iron products for many years. The state of Telangana is one of the only states where it is rich in coal in the whole of southern India and other metals. This makes Sugna TMT one of the highly demanded industries in the line manufacturing steel.
#2 TISCO
TISCO is one of the oldest and largest steel manufacturing industries in India which was founded in 1907 by Jamsehedji Tata. It is located in Jharkhand's Singhbhum district. The availability of raw materials in the state made TISCO one of the rapidly growing industries in the modern world.
#3 The Visvesvaraya Iron and Steel Plant
The industry is located in the state of Karnataka, district of Shimoga on the banks of river Bhadravati. It was started in the year 1923 and was later taken over by the government of India. The industry with the help of necessary raw materials available in the state can produce 1.38 lakh tonnes of steel and other metals.
Conclusion
Many companies are located in India concerning the availability of raw materials. Sugna TMT is one among those who have benefited from its location and now anyone can find locate them easily. To know more about Sugna TMT call us at 1800 3010 1604 or mail us at [email protected].