TMT steel is one of the most in-demand construction materials in the market, and the industry is rapidly growing. The huge demand and rapid growth in the industry have given rise to a large number of suppliers, along with a vast variety of different products with distinctive features. 
While each of the products and different grades of TMT steel has its own characteristics and utility, for the consumer it has become increasingly difficult and confusing to make the right choice. However, we have a solution for you!
If you too are looking to purchase TMT steel bars for your construction, you are at the right place. In this article, we are going to suggest to you various resources and blogs which you can visit to enhance your knowledge of MT steel bars, and hence make the right choice. 
All these blogs post a variety of articles on different aspects of TMT bars on a regular basis. By reading these, you can discover new pieces of information about the bars and become a well-informed buyer. 
So, without much adieu, let's get going with our list of TMT Blogs in India! 
List of TMT Blogs in India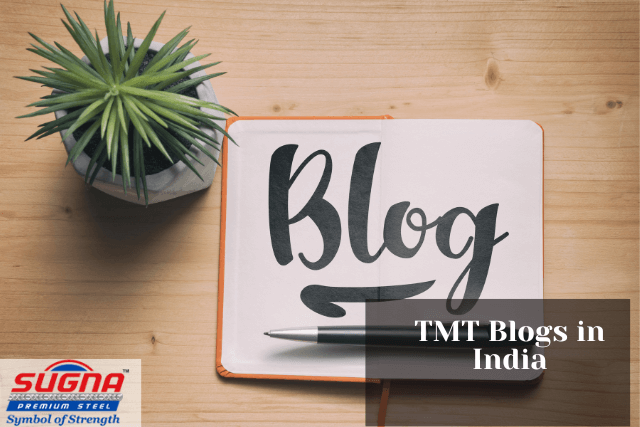 1. Sugna TMT
Sugna TMT is one of the leading TMT steel manufacturers. They offer all kinds of TMT steel bars that come in different grades with different properties, for all your construction needs. The best part is that Sugna TMT also maintains an active blog on its website, focusing exclusively on the various aspects related to TMT steel bars.
The blog is regularly updated, and here you can find information related to types of TMT bars, their different properties, things to consider while buying, how to use them, what to look for, and much more.
The best part about the Sugna TMT blog is that all the knowledge that these blog posts share come directly from the industry. The blogs are written by industry experts, and you can rest assured to get the latest and most reliable information related to the industry of TMT steel bars.  
2. TopTechTMT
TopTechTMT blog is yet another good source to refer to if you are looking to upgrade your knowledge of TMT steel bars. The blog is updated on a regular basis, with the latest developments in the industry. You can also find out about the best suppliers of high-quality TMT bars on the blog posts, and get a neutral view of the different suppliers. 
It's always beneficial to refer to multiple sources of information and validate the information from all the sources to make the right choice. In fact, this knowledge helps you ask the right questions to your supplier, and make sure that the quality that you desire and are paying for, is maintained throughout. 
3. Kalliyath India
Kalliyath India is another blog that comes directly from the manufacturing brand itself. You can refer to the blog for insights from within the industry, and to understand how TMT steel bars and processed and manufactured. This inside knowledge of TMT steel bars manufacturing will help you understand the different products and their features in a better way. 
Moreover, you will be able to understand and compare the steel manufacturing process of different manufacturers. As a consumer, you deserve nothing but the best, and this knowledge in the form of blog posts from different sources makes sure that you get the best. 
4. Bharathi TMT
Bharathi TMT blog is also a good source of knowledge about TMT steel bars. The blog posts on the portal are of good quality and diverse in nature, covering a wide variety of topics. What more? These posts are enriched with facts and figures from the industry, helping you make informed choices. 
On the blog, you can also find information and guidelines about the construction industry in general, making it a good website to visit regularly for any construction enthusiast. So if you like reading about construction, or you are starting off with a construction project, you must bookmark this blog. 
5. MS Life Steel
The final one in our list of TMT blogs in India is the blog called MS Life Steel, which is also regarded as a reliable source of information related to TMT steel bars manufacturing and features. The blog gives you a good perspective on the industry, covering some unique topics and in-depth knowledge that you may not find anywhere else on the internet. 
These blog posts on MS Life Steel are written by people who keep a close watch on the industry, and hence reading through them will certainly upgrade your knowledge. The blog posts feature the latest developments, technological interventions, new products, construction methods, and much more, along with standard information about different grades of TMT steel and their uses. 
Conclusion
As a prospective buyer of TMT steel bars, it is of utmost importance that you read the posts on some of the blogs that we have listed above. Sugna TMT blog is our top recommendation for that purpose. 
So what are you waiting for? Start with your journey of TMT steel knowledge today, and let us know how you got benefitted in the comments section!