We all dream of our family living under one roof but imagine what if that roof we dreamt of is not effective or useless? Doesn't that ruin our whole concept of being together and living happily ever after? Hence, one must build strong roofs while constructing their houses. 
How to choose an important part of your house without any proper research or knowledge? Are you wondering the same? Then, do not worry we at Sugna TMT got it covered. Due to our busy schedules, many of us may not be able to spend time on these products. 
Hence, our proactive team at Sugna TMT has been doing rigorous research and resulting in many types of roofs. Here in this article, you shall see some of the best types of roofs that can benefit us in many ways. Then why wait? Let's get started…
Types Of Roofs To Consider While Constructing A New House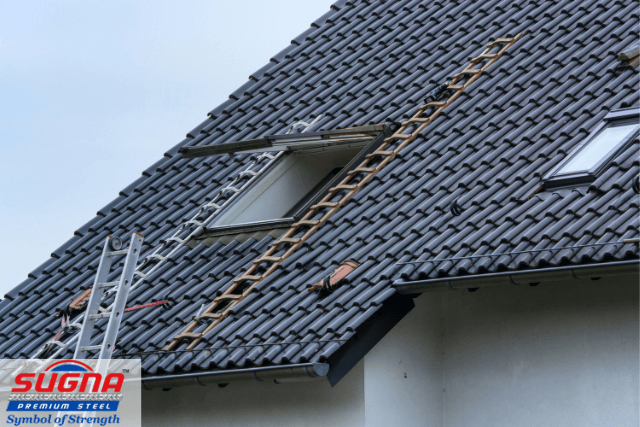 #1 Hip roof
As the roof plays a very important role in construction, a Hip roof can be the best choice for your dream house. This type of roof helps in high wind situations because of its sloppy structure. 
#2 Flat or terraced roof
This type of roof is seen commonly everywhere around the globe and is highly recommended because of its various benefits such as providing space on top of the roof, and protection from rain, snow, and heat.
#3 Curved roof
While constructing a roof many factors must be considered such as material cost, building cost, durability, availability, and so on. It provides better protection against heavy rains and winds. A curved roof is an indication of a durable building structure built with modern techniques and is built with efficient steel bars. 
Speaking about efficient steel bars Sugna TMT has been manufacturing one of the best quality TMT bars with the help of advanced technologies. Our team at Sugna TMT has always believed in customer satisfaction as their ultimate goal and has been successfully achieving it for many decades.
#4 Butterfly roof
Butterfly roofs can be easily identified as one of the modern roofing styles and gives; a luxurious look to our houses. The roof is angled in a V shape and it is also known as an inverted pitch roof. This mainly helps n rainwater collection systems and hence can also be called the environmentally friendly roof.
#5 M-shaped roof
This type of roof is seen often in high-story buildings. It mainly helps in snowy regions where the accumulation of snow is easily cleared out through a central guttering system installed on the roof. These types of roofs are supported by two-bearing walls and are sloppy in structure.
Conclusion
There are many types of roofs and we have presented you with some of the highly recommended and efficient roof structures. An efficient roof can only be built with strong walls and we at Sugna TMT strive hard to bring this dream into reality.
Then what are you waiting for? Call us today and order your choice of steel bar at Sugna TMT and build strong homes for your loved ones. You can call us at 1800 1036 176 or mail us at [email protected].