Do you know what kind of steel you are using in your project? If not, this knowledge might save you time and money down the road. 
You see, every project has different requirements and different budget constraints. Latest construction projects are using Carbon steel for more strong and corrosion-resistant buildings. However, there are two types of carbon steels Mild Steel and High steel. 
Often, when people go to buy steel they get confused about which will be better for their project. For these reasons, it is important to understand the differences between high and mild steel, so you can choose the right steel for your project. 
Here, we are going to guide you on the difference between these two types of Steel.   
Mild steel vs high steel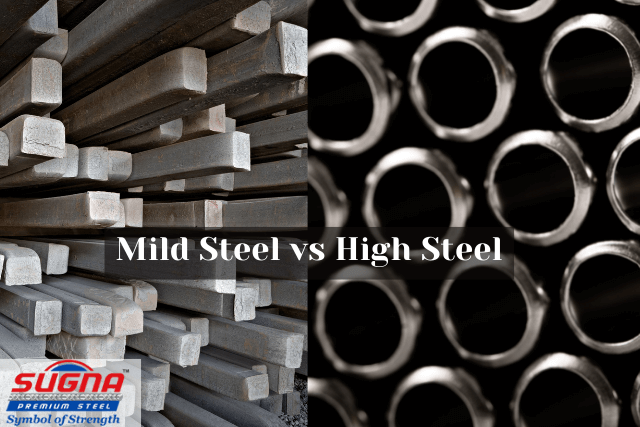 Carbon content proportion
Mild steel has 0.15 to 0.25 % of carbon content while High steel has 0.60 to 0.80% of carbon content. Thus, high steel has more carbon content than mild steel. Along with this, High steel also has other high yield strength provider components such as silicon, chromium, nickel, etc.  
Corrosion Resistant and Durability
Mild Steel is corrosion-resistant and malleable and has good ductility. Thus, it is the most commonly used type of steel
High steel is not as corrosion-resistant as mild steel but solid and reasonably complex. It has good impact resistance, though, and is commonly used in applications that require a certain amount of resistance to rust. Thus, it is not a commonly used type of steel. 
Cost
Mild steel is also reasonably cheap and doesn't require a significant investment to impact the end product significantly. While high steel costs more than mild steel. 
Uses
Mild Steel doesn't rust easily; it's the steel of choice for many manufacturing applications, including furniture, pipes, and other metals.
High steel has a higher melting point than mild steel. Because of this, it's the most popular material for cutting tools, Inner-Tube extrusions, and other hot-worked materials.
Mild steel is also known for its high electrical conductivity and therefore, it is used in the welding process. 
When Is Mild Steel Better Than High Steel?
The only time you should use high steel is when you need something that's quite hard, such as a door or window frame. 
When you need something less hard and stronger, such as a kitchen countertop, you should use mild steel. The reason you should use mild steel is that it's less expensive. It will also make the project last longer since it requires less maintenance and does not require hardening or tempering. 
Conclusion
Mild steel vs high steel is a heated issue among metalworkers. Both types of steel are helpful and have their place in the construction industry, but you should use the correct type for the job. These two types of carbon steel have their own properties and thus, they are used for specific purposes only. 
If you want to ensure your project must have the correct type of steel where it should use, then we will suggest that hire experts like Sugna TMT. TMT will help you to get the best construction with the correct material choice.