Steel bars have always proved themselves worthy among all other bars that are used to construct a building. For many ages, we have been depending on the strength and durability of the steel bar and to date, it has never failed us. Through advancements in technology, steel bars have been getting stronger and stronger.
In these improvements, one of the most liked and recommended steel bars is HYSD (High Yield Strength Deformed). These bars are used in every type of construction as they are most flexible and durable when compared to others. It is used for both lightweight and heavyweight structures.
Sugna TMT has been manufacturing one of the best HYSD steel bars for over a decade and has made its name in providing quality services. In this article, we shall see why HYSD bars include their uses and other important factors. 
Let's not wait any further. Let's read along.
What is HYSD?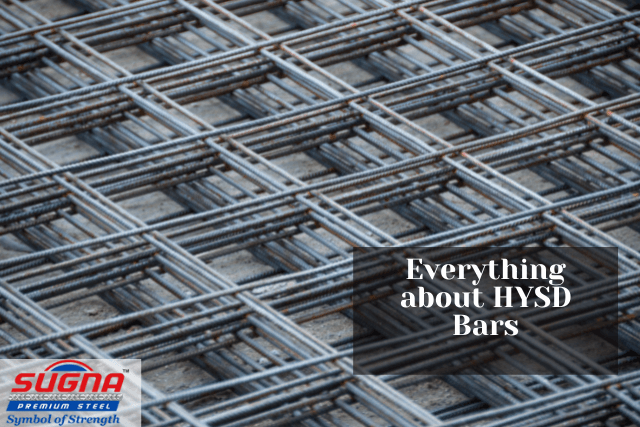 HYSD (High Yield Strength Deformed) are steel bars that are manufactured uniquely by heating the rod. These bars are manufactured at a hot temperature and are coldly twisted which makes them stronger than any other metals. The tensile strength of these bars is much higher in comparison.
HYSD bars have two types of grades which are
#1 Fe 415 or Tor 40
#2 Fe 500 or Tor 50
Benefits and uses of HYSD Bars
#1 HYSD bars are manufactured with a unique process of heating and cooling the bars simultaneously and hence, the bonding of the bars is increased by 40%.
#2 One of the main benefits that are available in HYSD bars is their corrosion-resistant property. Hence it is used in wet regions to build tunnels and underground sewage.
#3 After HYSD bars came into existence, because of their strength many high-story buildings were constructed with less cost compared to any other metals.
#4 HYSD steel bars are mainly used in building and designing homes which are only possible through these bars. As they are very flexible, any complicated designs are easily possible.
Keeping this in mind, we at Sugna TMT have been manufacturing the finest quality HYSD bars to help our clients build better homes for their loved ones. Our industries are equipped with high high-technologies to ease the work for our employees and to produce error error-free bars.
#5 These types of steel bars are used for broad type construction such as roads, buildings, highways, and bridges.
#6 HYSD Steel bars withstand huge amounts of stress when compared to mild steel bars as they are manufactured with a unique technique of heating and cooling the rod simultaneously.
Conclusion
For many years HYSD has been playing a crucial role in building a stronger city, in building a better home, and in building the country's infrastructure. Hence, HYSD has been the first choice of all the constructors around the globe. One can choose his type of HYSD bars per his/her requirement. 
Then why wait, we at Sugna TMT are waiting to serve you. Call us today at 1800 1036 176 or mail us at [email protected]