Human life has come across many generations and the advancement in technology has led to many useful creations. We have seen many industries which are successfully growing using this advancement.
The construction industry is one of the top fields that have been benefited from this. Builders are constantly in search of a better metal that can be used to build strong and designable buildings and to get one such metal is quite difficult.
Through rigorous research finally, we have come up with a steel bar that can fulfill all our requirements and that is none other than TMT (Thermo Mechanical Treatment) bars. Since then, it is no doubt that TMT bars have always carried out their promise to be one of the best steel bars when compared to other bars. TMT (Thermo Mechanical Treatment), as the name itself, suggests these bars are manufactured with a unique manufacturing technique called 'Thermal'. 
We at Sugna TMT have been manufacturing one of the finest TMT bars for many years and have faced all the challenges with a proactive attitude. Being one of the biggest industries equipped with advanced machinery, we carry on many tests on TMT bars to make sure to provide one of the best TMT around the globe. To know more please visit www.sugnatmt.com
Here in this article, we shall see some of the tests that are generally carried out to test the strength and reliability of the TMT bar. Let's get started.
Types of Tests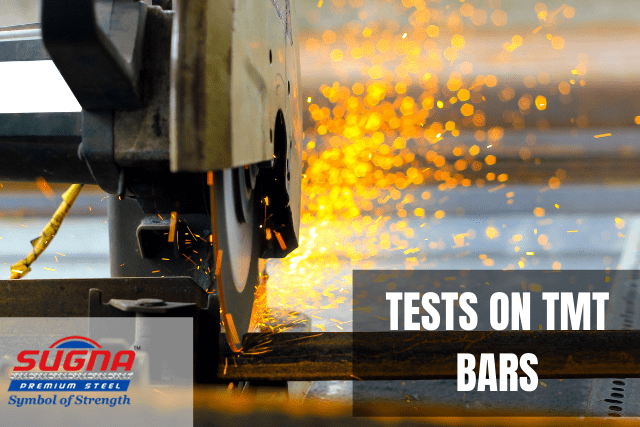 #1 Flexibility Test
The flexibility test in a TMT bar is one of the important tests which includes bending and rebending of the bar. This test is carried out by bending the bar at different angles and kept in high-temperature boiling water for half an hour. Later it is re-bent to its proper size. This type of test ensures the flexibility of the TMT bar.
#2 Impact Test
TMT bar goes through different kinds of temperatures to test its strength. This type of test determines the strength of TMT in times of natural calamities such as earthquakes, tsunamis, etc.
#3 Elasticity Test
This test is done by pulling the TMT bar attaching both ends to a pulling machine designed to pull. This shows the tensile strength of the TMT bar.
#4 Strength Test
The strength of the TMT bar is determined by applying a great number of forces on the TMT bar and to pass the test, the TMT bar has to withstand the pressure applied.
#5 Chemical Tests
Numerous chemical tests are done on the TMT bar to ensure the chemical properties are in the right proportion so that the TMT bars may not lose their strength through corrosion or breaking up.
Conclusion
There are numerous tests that are carried out on TMT bars to guarantee the customers with their safety. We at Sugna TMT find our success in Clients' satisfaction and hence, we shall keep testing every single TMT bar that goes out to our clients. Call us to collect your tested TMT bar.
Contact us:1800 1036 176. You can also mail us at [email protected].