Looking at the rapid developments that are taking place in this modern world, clearly gives you a picture of how our construction industry is highly advanced and has been paving its path to success by building the most iconic structures. These structures are built so strong that even the most vigorous earthquakes will not affect the beauty of the structure. 
To make this wonder happen, there must be a strong backbone on which the building stands. Yes, you are absolutely right. Behind every successful standing structure, there is a major role of iron bars. These steel bars help the building to remain intact even after years of nature's aggression. 
We at Sugna TMT have been producing TMT bars as we believe that TMT bars are the next-generation steel bars and it has been proven to be worthy among others. However, there is still an ongoing debate on TMT bars vs Traditional bars and which is better for construction.
We at Sugna TMT want to take this opportunity to try and resolve this debate once and for all. Hence, in this article, we shall see the difference between these two types of TMT bars. Also, we shall get to know which is better in construction when it comes to TMT bars and Other traditional bars. 
Then, why waste time? Let's keep going to explore knowledge about TMT bars vs Traditional Bars.
TMT Bars Vs Traditional Bars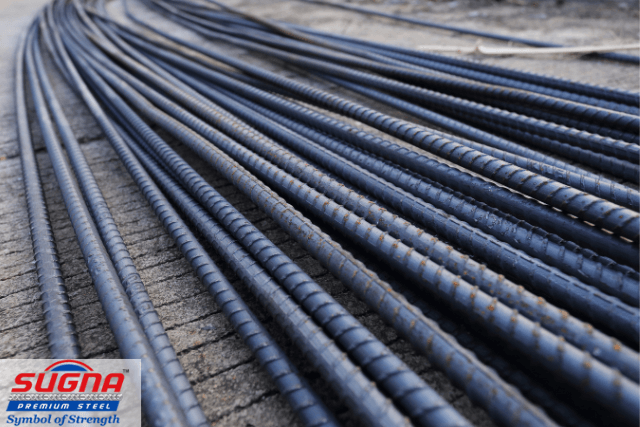 #1 Strength 
TMT bars are far better in tensile strength when compared to traditional bars as they are not manufactured with the same type of manufacturing. TMT bars are highly strengthened steel bars that are mechanically manufactured with thermo-mechanical therapy. Hence, TMT bars are used in every construction project.
#2 Ductility
The ductility of a metal is one of the most important factors, which means a point up to where a metal can bend but does not brittle or break. In such matters, TMT has been ranked in the first position when compared to other traditional metals.
#3 Flexibility
During construction, metal has to be bent several times in order to form a shape or a complicated design. TMT bars are the best at this and thus, they are the favorite bars for the contractors. In other words, in terms of the ability to adapt to the stress, they are put in with the tensile load. Traditional bars lack flexibility as they are not high in tensile strength and shall break when bent, unlike TMT Bars. 
Sugna TMT with its highly experienced employees has been manufacturing TMT bars for more than a decade and has been the top choice of all the constructors. Hence, we at Sugna TMT keep updating our equipment and skills in order to keep this legacy going. For more details, please visit www.sugnatmt.com.
#4 Weight
The weight of the steel bars matters when hiring the workers to lift them up to place them in the right places. Traditional bars are manufactured in the old methods and the weight of a traditional steel bar is much higher than a thermo mechanically manufactured TMT bar.
Which is better for Construction?
The intention of a constructor to build a structure is to make it last longer without getting affected by nature's acts or natural calamities. In order to make this happen, one must focus on the aspect such as strength, flexibility, resistance to fatigue, corrosion resistance, and many others. 
By choosing traditional bars, we are declining the strength of the building as they are not as strong as TMT and are not equally capable of standing firmly for a long time. However, when it comes to TMT bars, it has proven to be the best TMT bars and we at Sugna TMT shall guarantee you this. 
We make sure not even a single bar shall go out of the industry without proper testing or any damage. Hence, TMT bars are highly recommended bars when it comes to better construction.
Conclusion
Though there are several steel bars, TMT Bars have made their place on the top by proving worthy for all types of construction when compared to traditional steel bars. Sugna TMT has been striving hard to make its clients happy by manufacturing high-quality bars in the country. 
Then, why wait? Call us today and book an appointment to meet our highly qualified experts to guide you.