We all know that when we are into some work where a metal is used, then a smart person always prefers steel. Steel has been our number one choice for many decades and it has never let our trust down. It is mainly used in market construction by building huge multi-story buildings that need super-strengthened steel to withstand the stress of the building.
Though steel is one of the superior metals when comes to strength, it can be toughened even more or improve strength. This is done through a process called tempering steel. Isn't that awesome to know that one of the strongest steel can be made even stronger just by a simple process?
We at Sugna TMT are in a constant search for a better metal for our future generation and keep on researching the present metals. Being in this field for more than two decades, we are proud to be your service provider. Do you want to know more about this process and Sugna TMT?
Then, you are at the right place to learn about it. In this article, we shall see all the information regarding the tempering of steel and what is the purpose of it. Come on then let's move ahead!!
What is tampering with steel?
Steel has been one of our favorite metals inspiring us with its strength and stability. It is manufactured with various processes and also tempering the steel. Tempering is a process that helps the metal to become a stronger and stress bearable material. It is a heat treatment that is applied to steel to make it toughened for further use.
What is the purpose of tempering steel?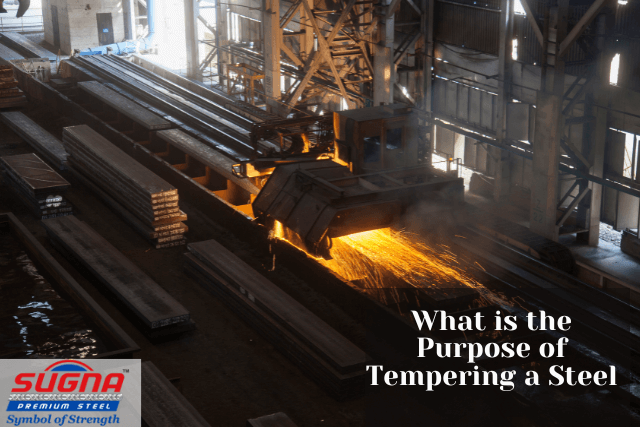 The purpose of tempering steel is to make it stronger and more flexible than before. It is done by heating the metal to a certain temperature to improve its characteristics of the metal. However, this is done through careful measures by making sure that it does not reach its melting point.
After heating the metal, it is cooled in the air making it stronger slowly and efficiently. Tempering is often applied after hardening the metal to also remove excess hardness. Sugna TMT has been one of those industries that always believed in the strength and ductility of the metal and has been practicing this technique for many years.
Conclusion
Tempering the steel has been one of the best methods to toughen the steel and is used in different places for greater strength. Sugna TMT has been one of them who have been manufacturing such metals with a proactive team. Hope our readers now understand why tempering is needed for steel.
Do you think it is necessary for steel? Then, what are you waiting for? Come on and visit us today to get your tempered steel for more strength and stability. You can even call us at 180030101604 or mail us at [email protected].