There was a time when the construction of a house was made through bamboo sticks or wooden planks which were quite difficult. There were many disadvantages of such construction. As time passed, the industrial revolution brought us Iron and steel which are used to date for many purposes in the house and big industries.
Though both metals are strong and self-reliant, there has always been a debate on which is stronger, iron or steel. Many industries have tried to resolve this query and yet it remains unsolved. Both metals have their properties that make them the most used metals.
Sugna TMT has been producing these metals for many years and has made some rigorous research on cast iron or steel which is stronger? We have listed some of the points that give the reader a better understanding of the topic. 
Then, what are waiting for? Let's find out which is stronger cast iron or steel.
Which is stronger iron or steel?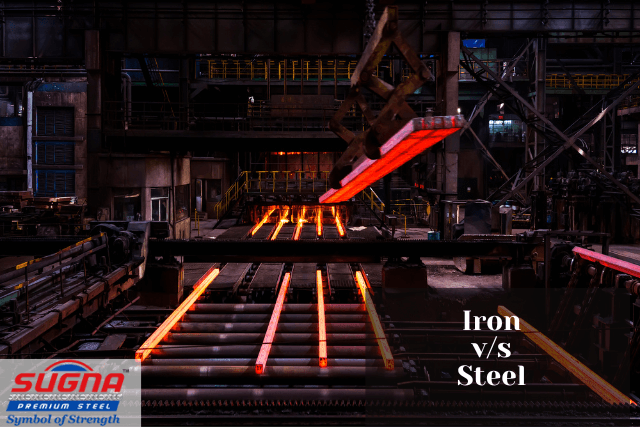 While calculating the strength of a material it is seen in all aspects in terms of strength, ductility, manufacturing process, flexibility, and so on. Here, we shall see some of the aspects that help us to decide which is stronger cast iron or steel.
Though iron is one of the oldest metals that is found in civilization, it has been a base element and used only in a few places. Steel is the combination of iron and carbon which creates a new compound material. A combination of elements can be seen in both metals while manufacturing.
In the case of iron, elements such as manganese and 3% to 5% of carbon make it stronger as the iron is not used on its own. Iron's melting point is much less than steel's as it becomes very less cost-effective when it comes to casting metal. Sugna TMT has been manufacturing such strong metals and has been in continuous research to find out which is the strongest metal present. 
Being one of the oldest industries in the market, we have the responsibility to provide quality materials. Steel has over 2200 varieties. This makes them popular among users as they can be manufactured by blending with other elements for much strength.
Steel is always believed to be the stronger metal as it is manufactured by combining more than one element and can be used in various heat temperatures. It is one of the most preferred metals when it comes to constructing houses or high-story buildings. It is also observed that steel is much more flexible and can be easily bendable when compared to iron.
Conclusion
There has always been a debate on this matter of which is stronger iron or steel and we hope that we have solved the issue once and for all. Sugna TMT looks forward to an opportunity to be your service provider and make your dream come true. What's stopping you?
Come on, pick up your phone and call us today. You can call us on 180030101604 or mail us at [email protected].