Though every building constructed in India is built using TMT bars they are different from one another. In the same way, there are numerous TMT bar blogs in India that work differently when compared to each other. 
Few companies manufacture TMT bars with utmost care and some companies make false promises. Getting to know which is the best is nearly impossible these days as every TMT bar looks like.
Every person dreams of having their own house and they work hard to bring that dream into reality. We at Sugna TMT respect them and their dreams. Hence; we are always conducting research and testing during the manufacturing of the TMT bar. We wish to deliver some of the fine TMT bars which are manufactured with great strength and ductility.
Welcome to another article of Sugna TMT where we shall share some interesting concepts and our views on them. There are numerous TMT bar blogs in India and our readers always end up in confusion because of irrelevant info. Hence, in this article, we shall help you decide the same as we list out some of the best TMT bar blogs in India. Sit back and read along.
Best TMT Bar Blogs In India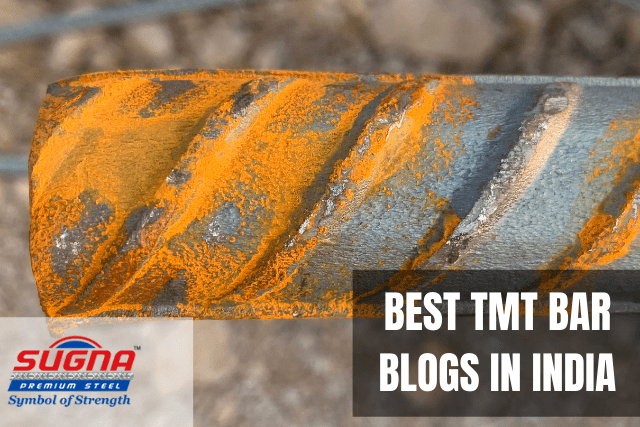 #1 Sugna TMT
We are one of the oldest and most long-lasting companies in Hyderabad. We have one of the most highly advanced industries, research centers, testing centers and so on that help us to manufacture the finest quality TMT bars. 
We are not only into manufacturing but also providing one of the most informative blogs. One can visit www.sugnatmt.com to know more about it. We are regularly posting information to make our audience more educated day by day.
#2 TATA Tiscon
TATA Tiscon is the next brand that manufactures TMT bars in their unique way. They are one of India's first GreenPro certified TMT bar manufacturers. TATA Tiscon also shares some of the information through their blogs through animation and attracting consumers. To know more visit www.tatatiscon.co.in 
#3 Jindal Panther
They are one of the highest TMT bar manufacturers and suppliers in the country. They are known for their strength and weldability and they showcase their future through their blogs and have never failed to impress their audience. For more info please visit www.jindalpanther.com 
#4 SRMB Bars
SRMB has also been one of the best companies when it comes to TMT bar elongation. It is famous for the elasticity and quality of the TMT bars. SRMB bars also provide very informative blogs and stand unique from other competitors and have never failed to impress with their websites. Please visit www.srmbsteel.com to know more.
#5 Sail TMT Bars
Sai TMT bar has one of the most attractive blogs and can answer every question of the clients. If one wants to know more about Sai TMT bar and their work then please visit www.sail.co.in 
Conclusion
The above mentioned are some of the highly recognized and some of the best companies in the whole of India. We at Sugna TMT are happy to inform you that we have been in this business for more than a decade and we would be more than honored to serve you with your dream house. Please call us today at 1800 1036 176 or email us at [email protected].