A wise man once said "With great power comes great responsibility" and steel companies are one among those responsible industries that are built to produce the strongest steel bars for a better tomorrow. Seeing the rapid growth in these industries, surely we can say that steel companies have been consistently carrying out their promise.
One might wonder, there numerous steel industries in India, and how to find the the best of best? Do not worry, you have come to the right place where we at Sugna TMT have listed some of the top 10  Steel Companies in India. Let's see them one by one.
Top 10 Steel Industries in India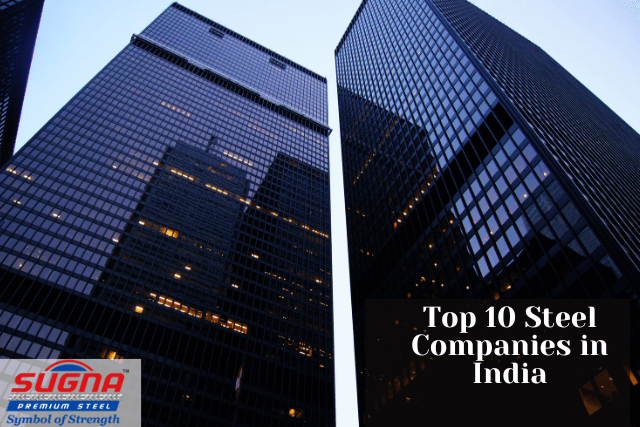 #1 Sugna TMT
It's no wonder that Sugna TMT has been at the top of the list for many years when it comes to manufacturing quality steel. Yes, you read it right. Every steel company may manufacture steel but the finest quality can only be made by a few and Sugna TMT is one of them due to its highly advanced technology.
For more info, you can visit our website www.sugnatmt.com and know more about how we manufacture and what we offer.
#2 TATA Steel Ltd
Who has not heard of TATA industries and their steel manufacturing? After Sugna TMT TATA steel is one of the best companies in India with its unique manufacturing process.
#3 JSW steel
JSW Steel has come a long way with just a single plant in 1982 and now being one of the highly recommended companies in India. They are well known for their research and development of steel bars in India.
#4 Essar Steel
The company has numerous steel industries in India and has been producing the best flat steel products and has more than 300 grades of flat steel. They have been maintaining their position in flat steel manufacturing in India for many decades.
#5 Rashtriya Ispat Nigam Ltd
RINL is one of those industries with huge industrial capabilities and can produce a long line of products within a short period. They are present in multiple states and have been producing quality steel bars and other products without any mistakes.
#6 Jindal Steel and Power Ltd
Based on turnover Jindal Steel stands in the top 10 companies and has huge steel manufacturing units around the country. They are known for their advanced steel manufacturing and power generation units on a global scale.
#7 Electrol Steel Ltd
Electrol Steel industries are well appreciated to introduce iron pipes in India and manufacturing them without compromising the quality. They are very well experienced and have the leading pipeline solution in India.
#8 Steel Authority of India Limited
It is also known as SAIL which is the 20th largest steel manufacturing industry in the world it is present in India and carrying out its manufacturing for decades. They are also known for its high-quality steel products in the world.
#9 VISA Steel
With the help of high-end technologies, the VISA steel industries are manufacturing some of the strongest steel in India. It is present in Odisha with huge manufacturing capability.
#10 Uttam Galva Steels
They are known for their highly demanded cold rolled steels and galvanized steel in the market. Color-coded products are also one of their majors in manufacturing steel. They are situated in Maharastra.
Conclusion 
We have seen the top 10 Steel Companies in India and every company has a unique steel product but working towards a similar goal of making India strong. We at Sugna have played a vital role in the same by producing the best of best quality steel in India. For more details on Sugna TMT, please call us at 1800 3010 1604 or mail us at [email protected].