In this 21st century, we can see some of the most magnificent multi-story buildings, skyscrapers, tall bridges, complex architectural buildings, and so on. Fifty to sixty years before it was nearly impossible to imagine our future would be so bright and amazing. All thanks to our rigorous research and development of steel industries who bring the TMT Bar revolution in India or worldwide. 
TMT bars are one of the most applauded metals in this modern era as it provides some of the best unimaginable comforts to mankind. Today, we can build the most complex designs which are the only cause of the fact that TMT bars are around us promising strength and reliability. Speaking about promising strength Sugna TMT is the one to remember.
We at Sugna TMT work day and night and do continuous research to bring our customers new and new types of metals and the TMT bar is one of them. We are the most trusted TMT industry in the entire country. Though it is a fact that TMT bars are the stars yet we know very little about these metals.
Hence, we at Sugna TMT have prepared a small article that can provide information about how the TMT bar revolution took place in India and Worldwide. To know more about it then stay tuned and ready to get amazed…..!
What are TMT bars?
TMT (Thermo Mechanical Treatment), as the name itself, suggests these TMT bars go through a Thermo Mechanical treatment to make them stronger than any other metal. TMT bars are harder from the outside and softer from the inside.
This is possible through a unique process called water quenching. It mainly comes in handy while welding during construction and also helps in shaping the design as we require.
TMT bar revolution in India or Worldwide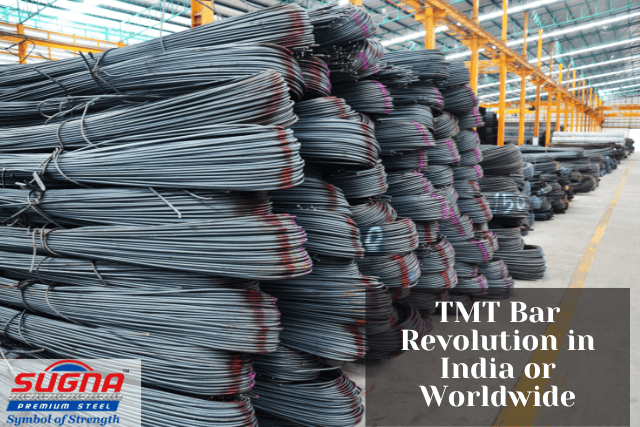 There is no second thought that TMT bars are the future of India and are capable of building a strong nation than any other metal in the whole world. While building a structure the structure must be supported with strong material. 
Hence, mild steel was used in the initial days of steel or iron manufacturing which were during world war 2. During this time many metals were introduced that were barely made into the market as they lacked the strength to withhold high stress or pressure. 
The search for a new metal went on and at the later stages of world war 2, deformed bars were introduced which became quite popular in the market compared to mild steel bars. These bars were upgradation of mild steel bars which had 415 MPa. 
It was also called (CTD) Cold Twisted Deformed bars which were manufactured with a unique method of rolling the hot steel bar which resulted in 60% higher strength when compared to mild steel bars. These bars ruled the construction field for the next two decades.
Though the CTD bars were stronger compared to MS bars, there were still improvements that can be done in CTD bars. Hence the search for stronger steel bars went on with more research and development. Using some of the advanced technology the industries came up with a new and much stronger steel bar which is TMT bars (Thermo Mechanical Treatment).
This innovation brought a new wave to steel industries and made TMT bars one of the best steel bars worldwide. These bars are capable of withstanding earthquakes and floods as they are manufactured using unique methods. The process includes heating the steel bar to 900 degree Celsius and sudden cooling it making the outer layer hard and the inner layer soft.
Sugna TMT bars have been producing the same TMT bars for more than decades now and have made the list of the top best industries in India. We are one of the most recommended steel industry because of our ultimate service to our clients. To know more about us. please visit www.sugnatmt.com
Grades and standards of TMT bars
TMT bars have several grades which can be chosen according to the need of the client. Fe415 and Fe500 are first-grade TMT bars that were introduced in the year 1979 and were used in constructing high-story buildings and tunnels and houses too. Later came the stage of Fe500 and Fe 550 which are manufactured in today's time and is one of the best and preferred TMT bars in the field of construction.
Conclusion
The journey of TMT bars is mindblowing, from a normal steel bar to one of the strongest and hardest steel bars ever innovated. We at Sugna TMT have been manufacturing these bars with the hope of building a better tomorrow and a stronger future. Come on let us build the nation together. Call us today and be the lucky ones to experience our service.