Our generation is not new to the fact that construction industries are the future of our country and are capable of revolutionizing the industrial chain. Only a strong infrastructure can promise you a powerful nation and Steel industries can make that promise into reality. Steel manufacturing industries have been manufacturing many types of steel but only one of those products is used by many builders.
There is none other than TMT (Thermo Mechanical Treatment) bars. Yes, you heard it right. TMT bars are the new future and have made the world amused with their strength and ductility. There is no other metal bar that can compete and steel leading the market for more than decades.  You were thinking What Property Do The TMT Bars Have?
Looking at the demand, Sugna TMT has been producing some quality TMT bars and fulfilling the needs of clients for many years. We have not only manufactured TMT bars but also continue to research how to improve our production and quality of steel bars. Though TMT bars are the favorite and preferred steel bars by constructors, many are unaware of their properties and qualities.
Hence, we at Sugna TMT have made it easy for you by preparing this article. Here, we shall see what property the TMT bars have. Are you excited? Then why wait? Let's begin.
Properties of TMT bars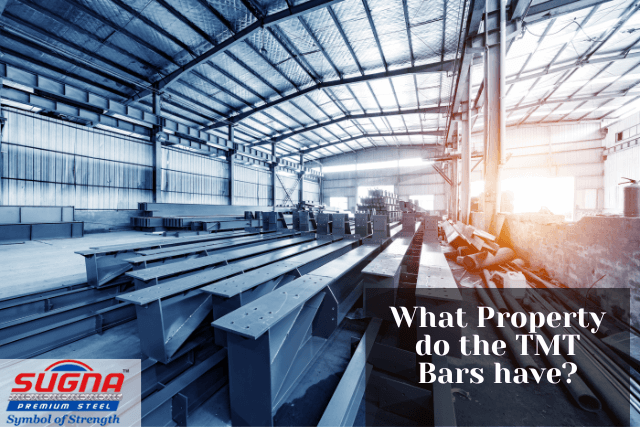 #1 Corrosion Resistant
TMT bars are known for their corrosion-resistant property as it is widely used in tunnels, bridges, and in wet areas where corrosion is a problem. These bars are manufactured using an advanced technology called Thermal where the bars undergo a process of sudden quenching while the rods are 900 degrees hot. This makes the bar more corrosion-resistant and strong when compared to tower metal bars.
#2 High pressure withstand 
Because of their unique processing method of sudden quenching, the TMT steel bars are capable of withstanding high pressures and have high stress-bearing limits. This method not only helps the TMT bar to be softer from the inner core but harder on the outside and helps the constructor to weld them easily.
#3 Flexibility
Flexibility is one of the main properties or features of a constructor in his/her steel bars and TMT bars can be your choice. There are several steel bars but only TMT bars are used to design complicated structures without using any external or special tools. Hence, flexibility is one of the most important properties any steel bar must possess.
#4 Elasticity
TMT (Thermo Mechanical Treatment) bars are known for their elasticity; in fact, these TMT bars are more elastic than rubbers. Elasticity l is measured when a material is stretched or compressed, the time it takes to come back to its normal shape. These steel bars have been one of the most elastic bars when compared to any other metal. It helps in the reinforcement of concrete during construction.
#5 Cost efficient
It is a known fact that using fewer materials during construction can save a lot of money and one can make that happen by using TMT bars during their construction. Due to their unique processing method, very few TMT bars can be used to construct a structure with minimum labor as it does not require many to lift them.
Sugna TMT has been manufacturing some of the best and most efficient TMT bars to make our client's dream houses cost less when compared to others. We have not only been manufacturing cost-efficient TMT bars but also some of the best quality flexible and corrosion-free TMT bars which can make your building strong and long-lasting.
#6 Earthquake resistant 
When any steel bars are used while constructing a building they might be damaged when there is an earthquake or any other natural disaster as they might not have the capacity to absorb the shock produced. When it comes to TMT bars they are manufactured in a way that any sudden disturbance in the ground is spread or distributed over the entire bar and hence not damaging any part. 
#7 Strength
Strength is the top priority when it comes to manufacturing TMT bars and this has been proven for many decades. TMT bars have more tensile strength and can withstand huge amounts of stress in difficult times. Due to their enormous strength and ductility, it is used widely around the globe to construct many huge structures.
Conclusion
Wasn't that interesting, knowing about TMT bars and their properties? There are several properties in which some of the important things have been listed for you. We at Sugna TMT make sure that your TMT bar never breaks the trust you keep in it to build your dream house. Allow us to show you our service.
Then what are you waiting for? Call us today and order your right bar. You can call us 180030101604 or mail us at [email protected].