Constructing a dream house is not an easy job and one has to go through countless materials, laborers, furniture, places, and so on to build a perfect house for their family and loved ones. To get out of this maze of searching for things, any smart person hires a contractor who is capable of doing.
When a person allows a project to a contractor, he/she has been put on the responsibility of finding better materials for your house. Though the contractors are well versed in what they are doing they keep looking for newer materials to keep up with the latest technology in the market. 
That is when Sugna TMT comes into the scene. Sugna TMT has been ruling the market of steel bars for more than a decade and this is why contractors prefer Sugna TMT. Though several industries have been manufacturing TMT bars for many years only a few of them deserve the trust of contractors. 
Sugna TMT has earned their trust due to many reasons and some of them are mentioned here below. Come on let us know why hundreds of contractors prefer Sugna TMT bars as their top preference.
Why do Contractors Prefer Sugna TMT?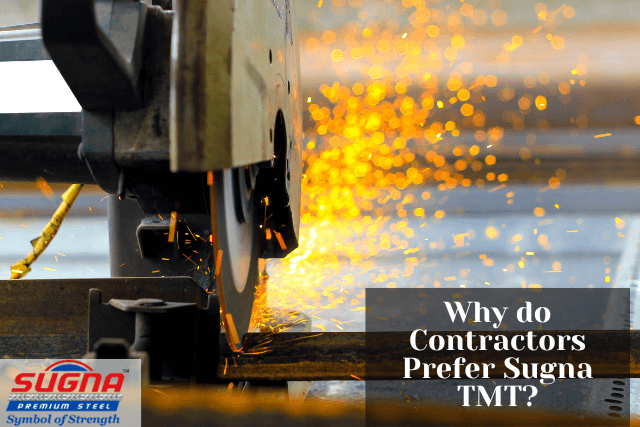 #1 Quality
First and foremost we would like to inform our readers that Sugna TMT has and will never compromise on quality in the manufacturing of TMT bars as our main aim is to deliver quality bars to our clients. The commitment to delivering quality bars is one of the most loved reasons why contractors choose Sugan TMT as their steel partner. To know more please visit www.sugnatmt.com 
#2 On time
In today's world, people often forget that only producing quality products is not enough but delivering them within the said time is very important. What is the use of manufacturing quality goods of one may not be able to use? 
When such incidents happen where the item cannot be delivered on time then the client does not wait but order somewhere and get the work finished. This will ruin the reputation.
#3 Service
Sugna TMT is known for its services to its clients. Several industries manufacture the finest steel bars yet people often prefer Sugna TMT, as they just don't want a quality product but also quality service. This makes our brand stand at the top of the list in the market.
#4 Experience 
Sugna TMT was founded in 1980 and since then we are manufacturing TMT steel bars and have never left our position of being in the best steel industry. This was only possible with a practice person who has led us with his experience Mr. Bharath Kumar Agarwal, Director of Sugna TMT. We are in the market for more than three decades which makes us some of the oldest and strongest experienced industries in comparison.
We are blessed with some of the best experience workers who know about tackling situations smartly and can take it as a challenge. This attitude is very hard to find in today's world but Sugna TMT owns it.
#5 Trust
When a contractor is assigned a project he/she has many responsibilities on their shoulders and choosing the wrong steel industry is not the job they expect to do. Hence, contractors always prefer Sugna TMT and have trusted the company for more than thirty years. 
Sugna TMT has always been identified as the most trusted company in terms of service, timely delivery, quality products, and well-experienced industry.
#6 Taking an extra mile
When it comes to servicing a client it is very good to do the job as guided by contractors but to go the extra mile and suggest to them what they require is very rare in this generation. Not focusing on the profit, but suggesting to them what they need in reality is an extra mile. 
We at Sugna TMT would like to go. This has made us their favorite company and one of the trustful companies in the entire country.
Conclusion
It is a fact that Sugna TMT had been identified as the best TMT steel bar manufacturing industry in comparison with others. There is no second thought about our service and guidance in the market and we are one of the highly preferred industries by every contractor. By this, not only contractors are happy but the clients have also never failed to praise our work.
Be a part of this steel journey and call us today for your steel TMT bar. Let us know your preference and we shall deliver it to your door in no time. You can call us 180030101604 or mail us at [email protected].