Our entire world of construction depends on steel bars. We cannot deny the fact that steel bars are the backbone of the construction industry and the structures they build. Though these steel bars are used widely around the globe there is no proper knowledge on which steel bars are used during the constructions.
However, there are numerous steel bars available in the market in which only two steel bars are most commonly used; in the country, TOR bars and TMT bars. Though both the steel bars are used for the same purpose the features and the properties differ from each other. 
These steel bars are manufactured through different processes at Sugna TMT, we have the best manufacturing unit in the entire country. Using the most advanced systems we have been successfully manufacturing the finest quality steel bars for 8 years. For more info please visit www.sugnatmt.com
However, to encourage you to choose the right steel bar for your dream construction we have differentiated TOR bars and TMT bars as per their qualities in the article below. Let us go through one by one.
TOR vs TMT Bars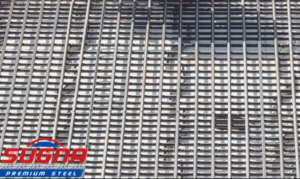 #1 Corrosion resistant
Corrosion is one of the main reasons for structural failure. TOR bars due to their high concentration of chloride ions tend to corrode between the concrete. In the case of TMT bars, due to their unique manufacturing process, they are corrosion resistant which is suitable for any type of construction in any region.
#2 Fire-resistant
When compared to TOR bars ,TMT bars are suitable steel bars to be used during the construction as it has the highest thermal stability which is up to 80% of the temperature when compared to TOR bars. As TOR bars contain low thermal stability they are used very less compared to TMT bars.
#3 Strong bonding
The strength of a structure is measured through its concrete bonding. TMT bars have a better bonding with cement than TOR as they consist of longitudinal and transverse ribs which helps them to bond better. This not only provides strength but also last long when compared with TOR bars.
We at Sugna TMT always believed in strong bonding, and thus we manufacture the bars with utmost care and quality. To ensure our customers' dreams become reality, we have upgraded our units with the most advanced technologies present in the entire country.
#4 Weldability
Due to the high carbon content in TOR bars, welding through these bars is quite difficult compared to TMT bars. TMT bars contain low carbon and with its special technique of water quenching and sudden cooling, the inner core of the rod remains soft. Hence, these metals are very easy to weld during construction.
#5 Seismic resistant
TMT bars are known for their seismic resistance quality when compared to TOR bars. The strength acquired due to its unique manufacturing and with the help of ribs, the shocks observed from external waves such as earthquakes, floods, etc. are equally distributed among the bars. Thus, the structure remains fully intact.
#6 Flexibility
In this modern world buildings that are built are very challenging and to cope up with this modernization the steel bars have to be very flexible. TMT bars have proven to be the right bars for such construction than TOD bars. They tend to stand firm in any temperature or humidity.
Final words
This has been a wonderful journey comparing TOR and TMT bars of their special and unique features. Though there are many differences between them, they have acquired their own prominence in the industry. We at Sugna TMT are here to help you out by knowing your needs and choosing the right steel bar for your dream construction.