There are a variety of steel bars with different grades where each and every bar has its own unique properties. Yet, during construction without proper research, many of us use the same type of steel bars for every purpose. 
Doing so, the cost of consumption may also differ during the construction.
Though these steel bars are used for construction purposes they can be differentiated by their features and uses which can help us achieve more strength and flexibility. Having a variety of grades in steel bars is a boon to the construction industry where one can select and adjust his cost consumption.
Sugna TMT is one of those industries that produce different grades of steel bars with utmost care and quality. Using advanced machinery, Sugna TMT is set to become one of the highly demanded manufacturing industries in the country. For more information, please visit www.sugnatmt.com
Here, we shall clear your misconceptions and doubts on how many grades and what are their features and properties in detail. Let's get started.
4 Grades of Steel Bar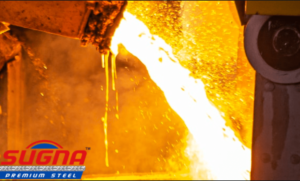 #1 Grade – Fe 500D
This grade for TMT bar Fe 500D is manufactured with a unique process to increase its flexibility during construction. This TMT bar is mainly known for its bendability which helps the builder to build the structure with imaginative designs possible. 
Without losing the quality, the bars are designed to withstand high pressure by twisting the rods thus, being used in huge structures.
#2 Grade – Fe 600
TMT bar Fe 600 is the strongest and more rigid among all other steel bars present. TMT bar becomes more strengthened when it comes into contact with cement and other materials. Thus, this is used widely in RCC constructions which require quality and reliable materials. 
TMT Fe 600 is mainly known for its tensile strength before everything else. This TMT bar is commonly used and cost-efficient compared to other common steel bars.
Sugna TMT also manufactures TMT Fe 600 bars and is famous for its service and quality. At Sugna TMT, we carry on research on every metal rigorously to make sure no imperfections are delivered to our clients' place. TMT bars produced in our industry are the most cost-efficient steel bars in the entire country.
#3 Grade – Fe 415
TMT bar Fe 415 is one of the early TMT bars that came into existence and is very well known for its strength for a long period of time. These bars are manufactured to support high pressure by using cold twisted procedures during manufacturing called Thermax. It is also known for its malleability, quality, and bendability.
These types of bars are mainly used in RCC developments which are prone to seismic tremors.
#4 Grade – Fe 500
TMT bar Fe 500 is one of the strongest TMT bars the construction industry has ever known. It is mainly used in constructing bridges, tunnels, towers, multiple-story buildings, etc. They are one of the highly used TMT bars around the globe. They are well known for their strength and corrosion-resistant properties.
These types of bars are used widely these days for house constructions that do not produce immense stress on the bars. The unique design of ribs around the bars equally divides the stress between the bars and the concrete.
Final words
There are many other different steel grades in the market and some of the best grades have been mentioned above. At Sugna TMT, we produce any type of steel bars required for your needs. We manufacture high standard quality TMT bars with low-cost consumption. To know more about the steel bars you can reach us on _ or even mail us at _.