Fe 550 and Fe 500D are two of the high-strength steel bars that are extensively used in modern-day building construction. Both kinds of TMT bars have excellent properties and similar features, which often makes the choice between the two difficult to make. But you need not worry! In this article, we take you on a deep dive into specific features of both the bars and discuss other factors related to their use.
However, before that, you need to know what are the desirable properties in TMT steel that make it a good TMT Bar. So, let's get started! 
Fe 550 and Fe 500D TMT steel bars in Hyderabad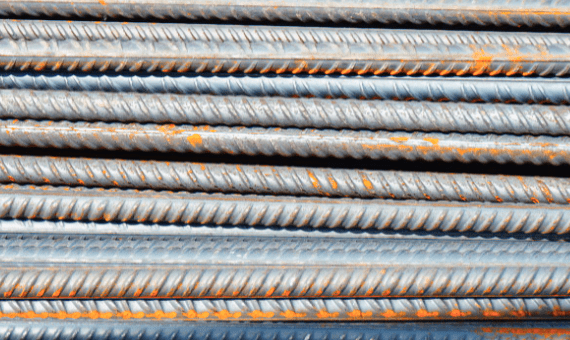 Desirable Qualities of TMT Steel Bar
TMT steel bars are manufactured using the metallurgical process called 'Thermo Mechanical Treatment (TMT)
A good quality TMT bar must imbibe in it a perfect balance of strength & flexibility.
The carbon content in the TMT bar should be as low in proportion as possible.
The bars should have gone through the bend & re-bend testing to prove yield strength.
They should have ribs on the bar surface act as stress concentrators.
TMT bars must display higher elongation and greater tensile strength as compared to cold twisted bars (CTB) 
TMT steel bars are highly weldable which makes them easier to assemble and install. 
TMT steel bars should also be characterized by corrosion resistance and earthquake resistance properties. 
The bars should have a lesser Sulphur content, giving them fire-resistant properties. 
Now that you know what the desirable properties in a TMT are, let us now give you a detailed overview of the features and properties of the Fe 550 and Fe 500D TMT bars. 
Key Features of Fe 550 TMT Bars
Grade Fe 550 TMT bars, having a higher yield strength, are stronger than grade Fe 500 TMT bars.
Fe 550 TMT steel bars come in several diameters like 8 mm, 10 mm, 12 mm, 16 mm, 20 mm, extending up to 36 mm.
Fe 550 TMT bars a little less flexible than the Fe 500D bars. However, they work perfectly well for all kinds of practical applications in building construction. 
Mechanical Properties of Fe 550 TMT steel bars:
Minimum proof stress of 550 Newton per mm square
Minimum tensile stress of 585 Newton per mm square
8 % minimum elongation 
Mandrel diameter for bend test up to 20 mm 5D and over 20 mm 6D
Chemical Composition of Fe 550 TMT steel bars:  
The carbon content of 0.30%
Sulfur is maximum of 0.055%
Phosphorus content stands at a maximum of 0.050%
S and P is maximum 0.100%
Uses of Fe 550 TMT steel bars:
Fe 550 TMT steel bars can be sourced for the development of mechanical and enormous arrangement foundation ventures. 
Further, Fe 550 TMT is the ideal kind of steel for erecting Scaffolds, mechanical undertakings, and other structures requiring high burden-bearing limits. 
Moreover, if the construction is located on a  beachfront, marine, or underground condition, then Fe 550 can be of great use in ensuring the strength or longevity of such structures. 
Key Features of Fe 500D TMT Bars
'D' in the Fe 500D TMT Bar stands for 'Ductility'
Fe 500D are high flexibility TMT bars, with better ductility and elongation properties as compared to the Fe 550 TMT.
A high degree of pliability is another fundamental factor that makes Fe 500D an ideal choice for most construction projects.
Fe 500D has a carbon content that is a few notches lesser than the standard Fe 500 TMT steel. 
Mechanical Properties of Fe 500D TMT Steel Bar: 
0.2 percent proof stress/yield stress (Min)
Tensile strength 2% higher than Fe 500 TMT at 565 MPa
Fe 500D has 0.25% Carbon (max) as compared to 0.30% (max) in Fe 500.
Fe500D contains S+P 0.075% collectively and individually 0.04% each
The elongation norm for Fe500D stands at an impressive 16%
The maximum percentage of Sulphur and Phosphorus are lower in Fe 500D
Uses of Fe 500D TMT Steel Bar:
Fe 500D TMT steel is the best option for the construction of structures in seismic zones 3,4 and 5. Better malleability and stun opposition play an important role in protecting the structure and preventing it from collapse in the event of an earthquake. 
Therefore, Fe 500D TMT steel bars are used in the construction of bridges, dams, high-rise skyscrapers, industrial structures, flyovers, windmills, mountain bridges, railways bridges, structures such as airports, ports, hospitals, cantilever structures, tunnels, or concrete roads, statues and other load-bearing structures.
The Bottom Line
Fe 550 and 500D are two of the best TMT steel bars for high-quality building construction. Sugna TMT is a top manufacturer of both Fe 550 and Fe 500D TMT steel bars in Hyderabad. You can source large quantities of TMT bars for all kinds of projects, whether, residential, commercial, or institutional while being sure of quality and costs. 
So, what are you waiting for? Contact us today at the designated number or write us an email, and let's discuss your project requirements!