Who doesn't like it if their dream comes true of building a strong house and living happily ever after? Everyone wants to construct a perfect house that can last longer without any issues or maintenance. In this modern era, we have seen this dream come true with a magic metal called TMT bar.
Though TMT bar has been one of the superior metals we have ever come across, many have doubts about its flexibility. There are many metals or steel bars which guarantee to be the strongest but fail to keep their promise. However, the TMT bar has been the first choice of every builder because of its flexibility and strength.
Sugna TMT has been delivering one of the finest quality TMT bars by proving it to be one of the most flexible bars in the world. Here, in this article, we shall put forth some realities and assure you to impress you with the benefits that TMT bars offer. Then why wait… let's begin our journey!!
What is a TMT bar?
TMT (Thermo Mechanical Treatment) also called Thermo Mechanical process which means a process involving several steps that includes passing through heat and cold temperature and cooling down instantly. It is one of the strongest steel bars as it is used in building bridges, tunnels, high structure buildings, etc.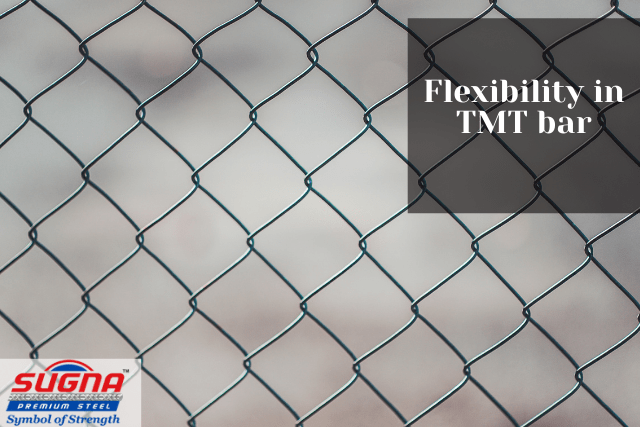 Flexibility in TMT bar
In simple words, flexibility can be referred to as the stress-bearing capacity of a steel bar. During constructions, TMT bars have to be molded, bent, drilled, or even broken into pieces and yet the strength of the bar must not be lost. If a TMT bar is not flexible enough in natural calamities, then the structure may end up in a disaster.
TMT bars are mainly known for their ultra-strength in difficult times such as earthquakes, tsunamis, etc. Apart from being highly flexible, it has also proven to be one of the best fire-resistant compared to other steel bars. For more information, please visit www.sugnatmt.com
How are TMT bars made flexible?
The unique manufacturing of the TMT bar has brought these results which include compression, heat-treatment, water quenching, heat and cooling at various temperatures, and so on. TMT bars are rolled in a mill at a high temperature of 1100 degrees Celsius which produces stronger yet flexible steel bars.
This method of thermal processing also helps the TMT bar to remain soft from the core and hard from the outside. Thus, this method helps the builder to build a long-lasting structure with the minimum usage of TMT bars. One of the major benefits one can avail of a flexible TMT bar is modern designable homes as it can be bent at any shape easily without compromising the strength.
Conclusion
TMT bars have been in use since the olden days and have never failed us with their strength and flexibility. Sugna TMT has been producing the best quality flexible TMT bars by helping the world to grow stronger at each step. Let us help you find your strong home today. Call us on  180030101604 or you can even mail us at [email protected].