In this modern era, technology has enabled us to do unthinkable things that can change our lifestyle forever. During this era, there have been many new inventions that have taken place resulting in an outstanding performance in every field such as agriculture, education, textiles, construction, and so on. 
It has been a promising and constant growth especially in the field of construction due to the production of TMT bars. These TMT bars are manufactured with an advanced technology called Thermex. Isn't this exciting to see one of the strongest steel bars is much stronger compared to any other steel bars?
We at Sugna TMT have been witnessing this magical development by manufacturing one of the highest quality Thermex TMT bars in the entire world. Sugna TMT believes in delivering the finest quality TMT bars with the best service. For more information, please visit www.sugnatmt.com. 
Are you ready to know more about this life-changing technology? Then stay with us on this journey and read along.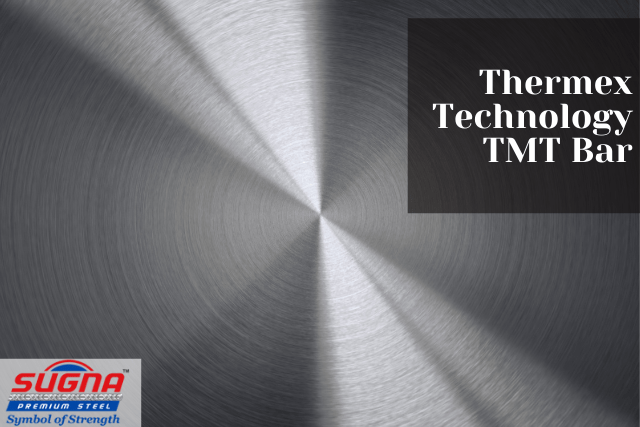 What is Thermax Technology?
Thermex is a new advanced and modern technology for manufacturing TMT bars. Due to this unique way of production, TMT bars are also called TMX bars. Thermex bars are licensed technology from Germany used in the manufacture of ultra-strength TMT bars of the next generation.
There are several methods and Thermex has been proved to be one of the efficient methods to produce flexible, weldable TMT bars. Thermex is a process that includes quenching of water and self-tempering at different temperatures to make the steel bar hard and strong. This has not only helped to build many skyscrapers, bridges, towers, etc. but also to build underground tunnels with high humidity.
Advantages of Thermex Technology
It has been proven that Thermex technology TMT bars are high-quality steel bars withstanding huge stress in times of natural calamities. This type of technology has helped the TMT bars to participate in all types of constructions and has been an all-rounder for builders. Thermex TMT bars have a high yield strength of 450-500 N/mm2 with high elongation.
This method results in a cooled hardened outer layer and soft inner area. Apart from being a tougher steel bar Thermex also provides some of the best features such as
Cost reduction – Though the steel bars can withstand heavy amounts of stress they are lightweight which results in less labor work and cost reduction.
During construction steel bars are used in a very small amount as Thermex TMT bars are ultra-strong.
Transportation – Due to its lightweight feature transportation has been easy and stressless with very minimum cost.
While constructing a structure the steel bars have to be bent in different shapes to build a house and Thermex TMT bars are the best example for better weldability and flexibility.
Conclusion
Thermex TMT bars have been a boon to the builders of this generation and have been their number one choice in selecting TMT bars. Sugna TMT strives hard by conducting constant research to resolve our clients' issues at each stage and for better client satisfaction. To know more, call us at 180030101604 or you can mail us at [email protected]