Manufacturing industries are one of the highly preferred industries these days as the demand for materials keeps growing day by day. To be one of the best and carrying out the responsibilities is a quite difficult task that every industry cannot handle. Manufacturing quality TMT bars that are high in demand is a very big responsibility only a few can carry out.
Though there are many industries in the market promising to manufacture long-lasting TMT bars, only one industry has been in everyone's talk which is Sugna TMT. Being one of the most suitable and popular TMT steel bars manufacturers, we at Sugna TMT bars have never let their clients' trust fail. 
To be a successful manufacturing industry, one must be able to tackle all the challenges faced in day-to-day activities with proper planning and knowledge. We at Sugna TMT assure our clients in providing one of the finest quality TMT bars when compared to other industries. For more information, kindly visit www.sugnatmt.com.
Though we are one of the highly recommended TMT bar manufacturers, we are here to present to you the factors why Sugna TMT is better and superior to any other industry in the world.
Why Sugna TMT is the Best TMT Bar Manufacturer in South India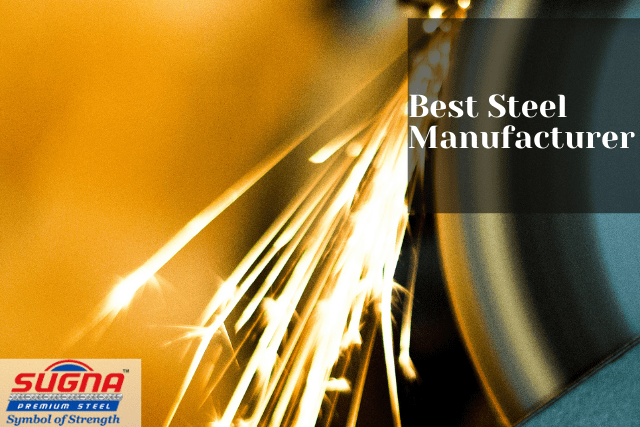 1 Advanced and Experienced
There are many industries in the country that have been manufacturing TMT bars and providing false hope. We at Sugna TMT are striving hard every day to eradicate this false belief about TMT bars by producing one of the high-quality TMT bars. We are equipped with the finest and most advanced technology machines and experienced laborers.
Since we have been manufacturing for a very long time, we have tackled many challenges and have successfully grown as a strongly emerging industry.
2 Machine-made
We are highly advanced at Sugna TMT by manufacturing every TMT steel bar with utmost care and research. To attain perfection in production we have installed AI robots in every department to reduce human errors as much as possible. Thus, making our clients trust more on Sugna TMT when compared to others.
3 Cost reduction
Sugna TMT produces TMT bars using advanced German technology called Thermex which results in ultra-strong, flexible, weldable, and light-weighted Thermex TMT bars when compared to others. Thus, leading to less cost consumption during the construction of the structure.
4 High standard TMT bars
While manufacturing any steel bar, industries have to maintain a standard of quality ensuring all the properties and features are present. Sugna TMT has never compromised in quality and has always manufactured high-standard TMT bars with utmost care to make our clients' dreams come true.
Conclusion
We believe in building a stronger tomorrow by manufacturing a strong TMT bar today. As it has been our aim to satisfy our clients by making their dream into reality we have a long way. Give us a chance and get ready to be amazed. 
Then what are you waiting for? Call us today on our number 180030101604  or just drop us an email at [email protected].We'll be happy to help you!